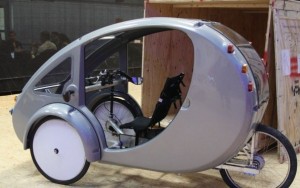 What you are seeing here is the ELF. I am not certain what that stands for, but it is a very interesting innovative solar/pedal hybrid vehicle.
The ELF has solar panels on the rooftop, and you can also charge the battery by plugging it into the wall. Not only can you pedal it around, but there is enough room in the back for groceries or other things that you want to store.
Now here is the good part. According to my Source and the company, the ELF can go 1,800 miles on the energy equivalent of one gallon of gas. Granted, the gallon of gas will be faster, but you have to admire how this can save the earth.
Organic Transit plans to make about 51 of these, and give them out to the nice Kickstarter donators. They sure are lucky, and I wouldn't mind pedaling these these around with the motorized thing going on as well.