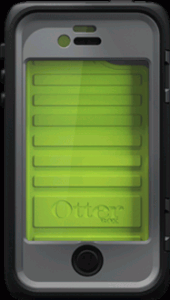 This isn't the first time that I have expounded on the cases from Otterbox, and I am certain that it won't be the last time. If you know anything about mobile phone accessories, then you probably know that Otterbox makes some of the best, and this Armor Series is the toughest.
I was fortunate to try out the Armor Series for the iPhone 4/4S, and it is most certainly one of the tightest cases I have ever seen. According to the official website, it is "waterproof, drop proof, dust proof, and crush proof".
Most Otterbox cases have several layers of protection, but the Armor Series opens up like a clamshell to fit the phone right in. The clamps are not the type that easily flip open, but I needed a screwdriver to open them. You still have access to the touchscreen and all of the buttons.
You should be able to purchase the Armor series on the Otterbox site for a price of $99.99 for the iPhone 4/4S, iPhone 5, and the Samsung Galaxy S III.