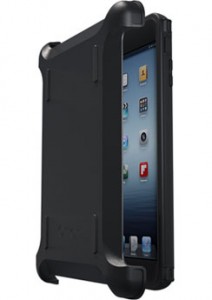 I think we all know that one of the better cases for any mobile device is the Otterbox, and it comes as no surprise that they made the Defender Series for the iPad Mini.
This particular iPad Mini cover reminds me a lot of the one for the Kindle Fire, as it has quite a lot of layers of protection. There is a durable outer layer made of strong silicone made to protect the side form dents. It also has has silicone port protection for the jacks, and you can access the camera as well.
There is also a clear polycarbonate membrane built into the case to prevent screen scratches. Polycarbonate is also in the inner layer to surround the iPad Mini to protect it from scratches even better.
In addition to all this protection, the shield has a stand that is good for landscape viewing and is at a good angle for typing. I think this is the Defender Case standard.
It looks like the OtterBox iPad mini case is brand new to the Otterbox site. You can find it for about $69.95 right here.