After I had a chance to try out the Otterbox Defender Series for the iPad Mini, I also had a chance to try out some of their new cases for the iPhone 5. The company has the Defender, Commuter, Reflex, and Prefix series, and I managed to try samples of two of these series, the Commuter and the Defender.
I will start with the Commuter Series for the iPhone 5 as seen to the right. This particular iPhone 5 case has a hard exterior shell as well as an interior slipcover that combine together for great side protection.
In addition to this protection from scratches, there is a self-adhering film that protects the touchscreen as well. There is also protection for the ports and jacks, and there are custom openings for the camera and flash.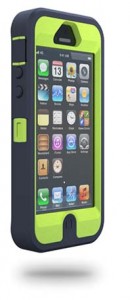 I might as well end with the Defender Series as seen to the left, as it has the many layers of shielding with a slipcover, a rubber outer layer, as well as a built-in protective membrane for the screen. The real protection is in the interior shell, a solid plastic structure that surrounds the iPhone 5 itself.
In addition to all the layers of protection for the phone and the ports, the Defender Series for the iPhone 5 comes with a belt clip that allows the phone to be snapped in place for portability.
You can get either of these cases on the Otterbox site in many colors. The Defender series is about $49.95 here and the Commuter Series is $34.95 here.