The Samsung Galaxy S10 series of phones are out, and they are beautiful and expensive. You need something strong to protect your investment, and Otterbox is there to do so. We've reviewed these Otterbox cases for iPhones and Google Pixel 3 phones, but these same cases are now available for the new line of Galaxy S10 phones.
The Otterbox Defender for Samsung Galaxy S10+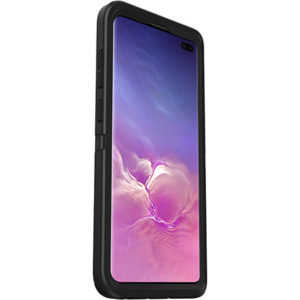 Well, it's available for other S10 phones as well, but this particular one that we were sent is for the plus. Just apply this review to the others, as they are pretty much the same.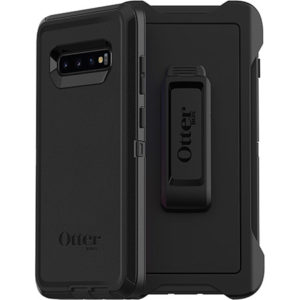 With multi-layer protection, and the Otterbox name, you know that you can drop your phone with no worries. This case comes with a belt clip holster to carry your phone easily, and also has a kickstand for viewing your phone hands-free.
The ports are covered to prevent dirt, dust and lint from clogging them. They are a little stiff to budge at first, but I assume they will get easier to remove over time. There is also the nice beveled front edge that we like to see on the cases to help save the screen from scratches if placed face down.
You can get these for $59.95 in Black, Purple Nebula, and Big Sur Blue.
Otterbox Pursuit Series for Samsung Galaxy S10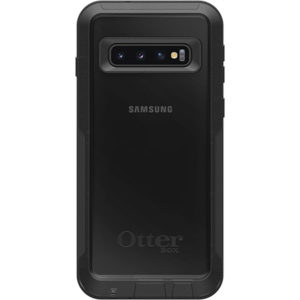 Just like the Defender, this case is available for the whole line, and also for other phones. This case also has very strong drop protection- or as Otterbox puts it "Ultimate." So, the case is pretty tough. It's tough, but it's also thin, which makes your phone easily compatible with wireless charging. An internal protective layer absorbs shock.
All ports are covered, and it even has audio transparent mesh that is enhanced to give you good sound, but still protect from dust, mud, dirt and snow.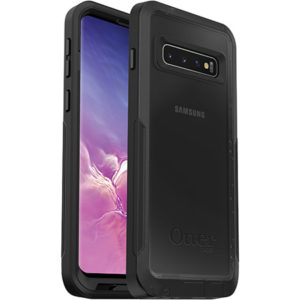 This case is available in Black, Black/Clear, and Autumn Lake(kind of a teal blue with some brown trim). You can purchase it for $69.95.
And now for our disclaimer- We received these free items for review purposes. No other compensation has been given for our fair and unbiased analysis. If you want to purchase this item, and use our Amazon Affiliate links, we may receive a portion of the proceeds.