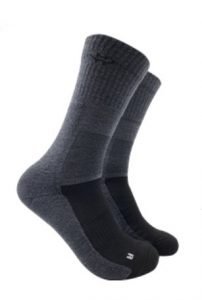 It isn't often that we review a pair of socks on this website. After all, don't we usually do reviews of more technical things? It's not like these are smart socks or anything. So, what is it with the MP Magic 37.5 Tech Merino Wool socks?
Well, the proof is in the pudding, and I am trying them on right now. Even though these are the XL size, and my shoe size is 10 1/2, these socks feel pretty darn tight.
Now, I am told that my feet will stay dry and odorless, as well as comfortable. I have been wearing these socks for about half and hour, and my feet feel quite warm. Granted, the weather had been getting cold here at night, so it is very welcome.
I am told that these will keep your feet dry all day. I would have to take a hike through a very wet place in order to see if they are really waterproof. I mean, no one likes to have wet socks, really. Especially when it is cold out, and you can't help but catch cold.
In case you are not familiar with Merino Wool, it is apparently the finest wool in the world, as it stems from these sheep in Australia. As for why the number 37.5 is in the name, it is due to the temperature being about 37.5 C, the ideal body temperature. It is a solid material that makes me feel like I am wearing slippers, and the good news is that the Merino socks are machine washable.
Now, I will have to say that they don't seem to be available anywhere except on Indiegogo, at least for now. The price is about $159 for 12 pairs, and I'll let you do the math to find out the price per individual. You might decide it is too much for one pair of socks, but comfort often does have a high price.