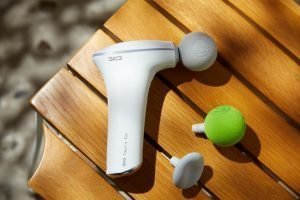 It isn't often that we review a massager on this website, and I honestly can't remember if there was a last time. I'm just going to say that there isn't one, and so we'll review the SKG F5 Massage Gun.
So, this is a massager, then you know that there is going to be a lot of…vibing. This thing most certainly has it, and it can do that, as well as a little heating action, and it is adjustable from 40, 48, to 53 degrees. It is designed for "improvement of muscle inflammation and tension with deep muscle release".
I have heard that SKG has had plenty of years in the massage business, and it really shows with the design of the F5. The one thing about massagers is they tend to be very heavy, but this F5 is quite light at 0.66 lbs. It also has these three connection points, with two that are ball-shaped and one kind of saucer shaped.
So, how is the experience? Well, it isn't bad, in fact, I would say that it is good. It is available on the SKG site and on Amazon for $129.