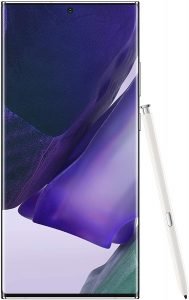 It has been a while since I have had a new smartphone in my hand, and I decided to get an advanced one. I honestly don't know if it is the most advanced, but having the Toast wooden case really affected my decision.
I might as well first talk about the AMOLED 2X Infinity-O Display, which is a real deal-maker. It is pretty glare-free, and I found that things just look more fluid, even on simple apps like Pokémon Go. Part of it might be the huge amount of memory, which means that you essentially have a very small PC in your hand.
As for the camera, it has some terrific combination of a 12 MP ultra-wide, 108MP wide-angle, 12MP Telephoto, and a laser AF Sensor. It also has a 10MP Selfie Camera. This is 8K, which is very awesome, and you might have noticed that several of my videos are using that.
This is the first time that I have ever bought a phablet, and I am glad that it isn't too large to fit in my pants pocket. This is also the first time that I have owned a device with a stylus, and I will say that I really only use it a fraction of the time.
I'm quite amazed by what I can do with this:
The magic really starts happening when you just yank out the pen. I recommend trying out the Live Message and the AR Doodle.
By removing the pen and holding on the button, it will go into the camera from lock-screen. From there, you can push the button to take a pic. Not bad for selfies. By the way, you can click the pen button twice to click into selfie mode. Holding the button down can bring out a burst of pics.
Gestures are about everything in this. For example, in the media mode, pushing the button and motioning up can raise the volume, and the opposite drop it. Nice. The same applies to the Bluetooth device.
In case you are the type that would like to write instead of type, you can just go into any keyboard program that you are on, and just write the message by selecting these three dots in the corner. It is very sensitive and it can pick up symbols.
Speaking of sending different kinds of messages, you can do this little trick where you can hit the three dots and send a kind of message via Spotify or YouTube.
Oh my gosh! You can actually use the note-taking program in order to correct shapes that you have done. Just select a particular icon in the corner down below (which has to be enabled on the Settings) and you can draw perfect circles, squares, and all sorts of stuff.
I'm going to have a video on this later, but I will end this by saying how expensivo this phone is.