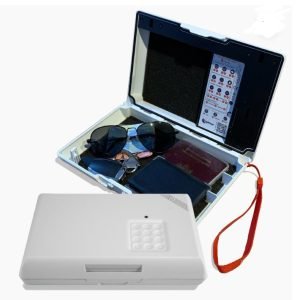 So, here's a product from UpFiner that is quite interesting. We usually don't review a safe, but what is going on with this Uplock?
Imagine if you are on the beach, and you want to go for a swim. You probably don't want to leave your wallet behind, or your phone. So just put it in the UpLock, and close it up with its combination.
Now, if you close up your valuables, and should someone try to move this UpLock, an alarm will sound. If the UpLock is put down, the alarm will stop.
In addition to that great feature, the UpLock has a steel cable lock for some great extra security and a carrying strap. So I might have mentioned this in my video, but I would imagine that you could use this Uplock safe outdoors, like keeping your valuables safe on the beach or the pool while you are in the water. You could also keep it at home, because the moment someone picks it up, it goes off, and who's going to want to take something like that?
If you want to get in on this Uplock, head on over to UpFiner website and pay about $109.00 for it.