What is PAX West?
In case you are not familiar with PAX, it is a carefully crafted acronym for Penny Arcade Expo. Penny Arcade is a web comic from two guys named Gabe and Tycho, who have since kind of become geek legend. Anyway, they started a convention devoted to gamers known as Penny Arcade Expo, and it has branched off into a few gaming conventions per year, with PAX West taking place in Seattle.
I'll be talking about several things related to PAX West exhibits that I saw later, but I thoroughly enjoy what I saw. One of the things that I really look forward to seeing is the cosplay, and I saw it in abundance this year.
Best PAX West cosplay
One of these cosplayers told me that this was not a "cosplay heavy" convention, and I had to admit that I didn't really see that much of it. In the past, I have published many photos on it per each day of PAX West, but this time, I decided to seek out what looked the best to me.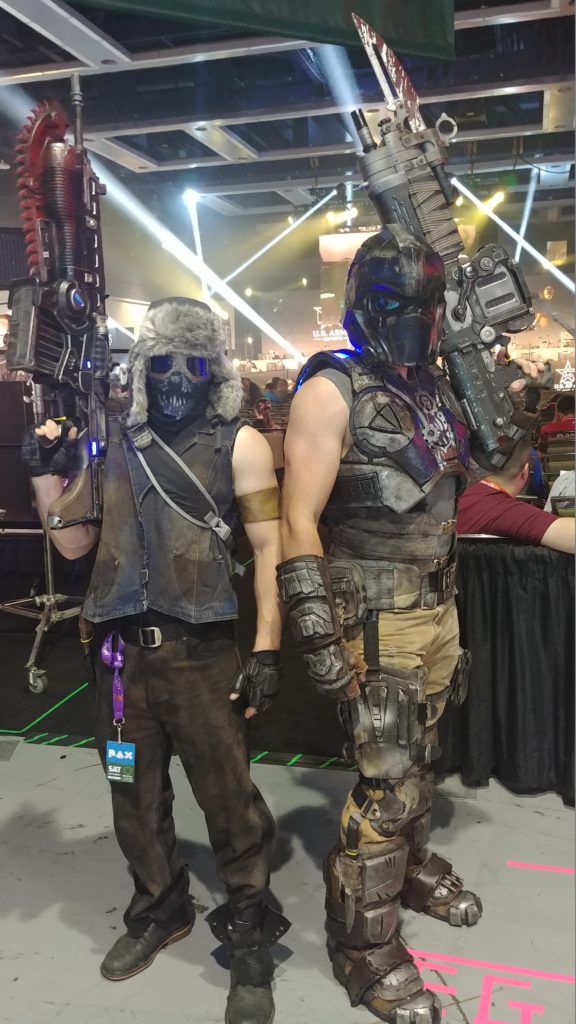 You got to love any Gears of War characters on display, and those guns look wicked lethal.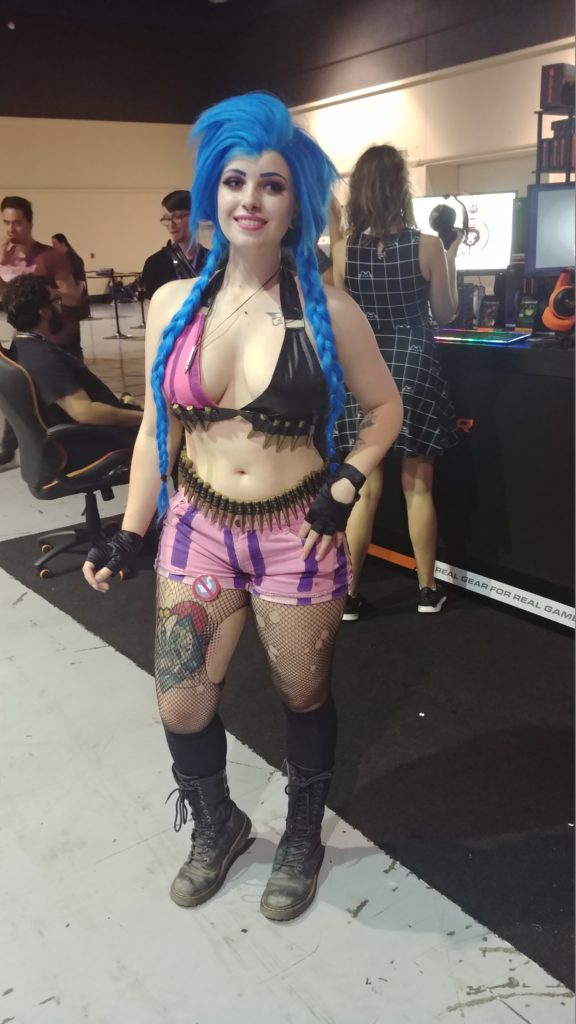 I think it is weird that League of Legends cosplay is still in fashion, and this Jinx is definitely not bad luck.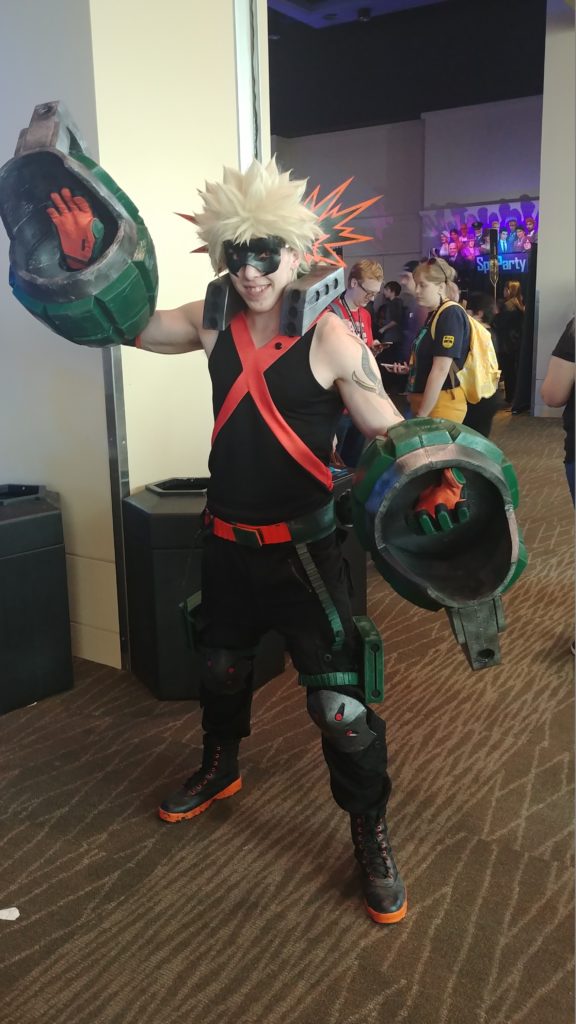 I can't believe that I didn't recognize Bakugo from My Hero Academia, but who else would have grenades for hands. In this case, they were quite heavy for the member of Class A.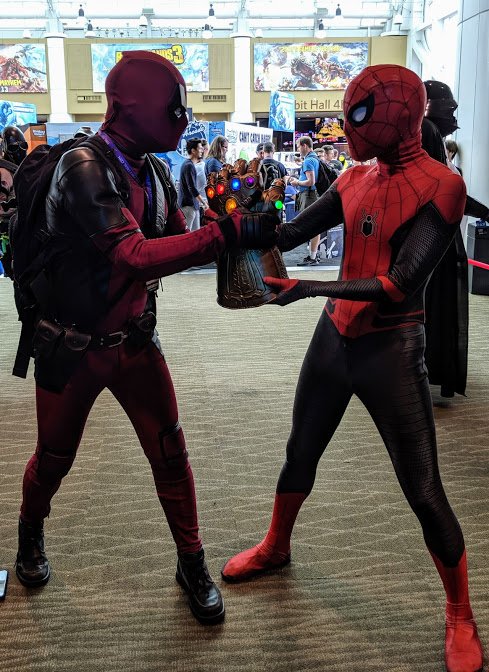 Eight words: Spider-man and Deadpool fight over the Infinity Gauntlet! I wasn't able to talk to Spider-man afterward, so I hope you are okay with this. As for Deadpool, he has his mask signed by Deadpool creator Rob Liefeld himself, and once led 40 Deadpools in a conga line. We are impressed, indeed.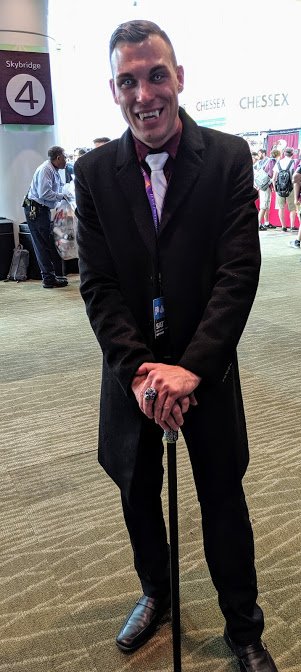 At first I thought this guy was some representation of a TV or book character, but he told me that he was just a vampire. He certainly is one of the good ones, and I was glad that I could catch him on camera.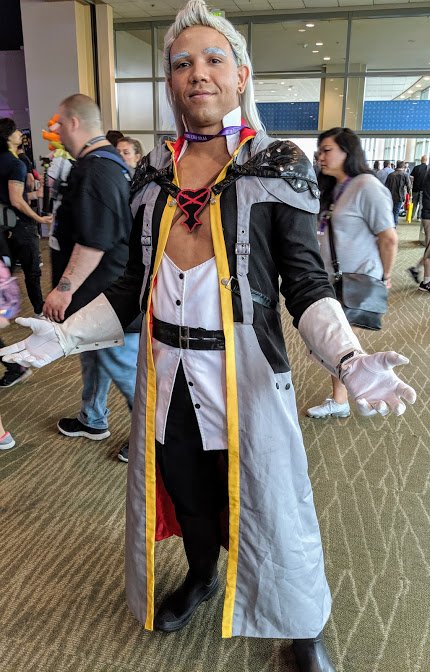 I really don't know much about Kingdom Hearts, but this Ansem is very wise, and I enjoyed getting to know him.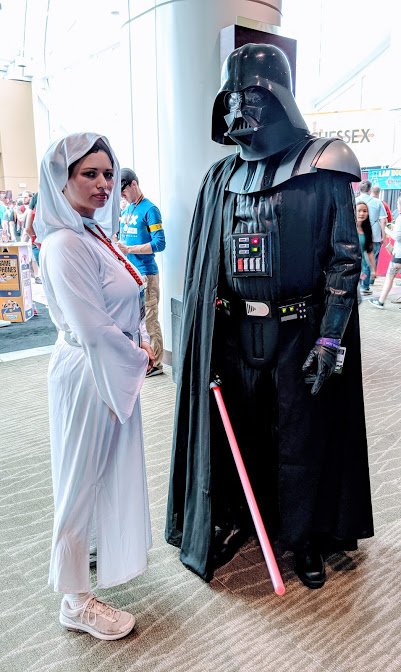 I never did get a chance to talk to Darth and the Princess here. They were constantly surrounded by people who wanted to get a shot of the father/daughter pair, so I hope you are okay with me posting this pic.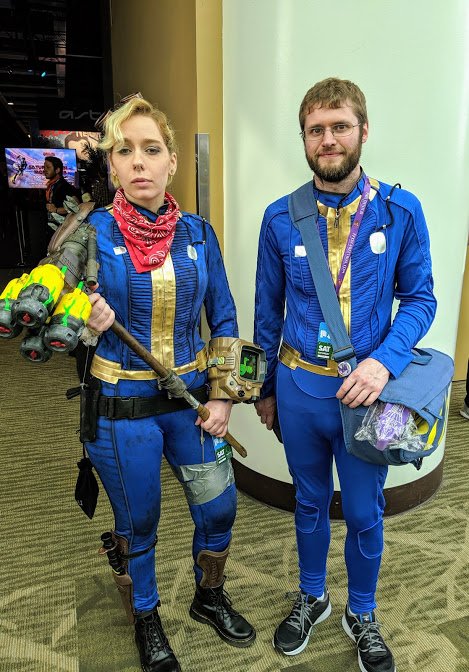 I really liked meeting this Fallout Lone Survivor, and that weapon is nothing short of awesome, and aptly named Atom's Judgment.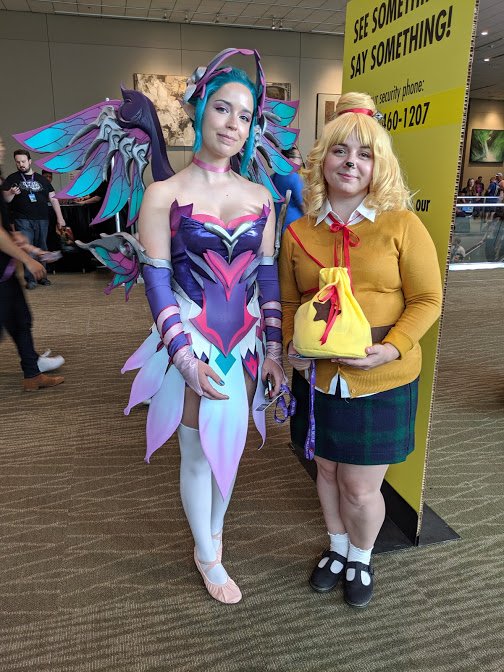 We got Mercy from Overwatch as well as Isabelle from Animal Crossing. I love the wings, and love doggos.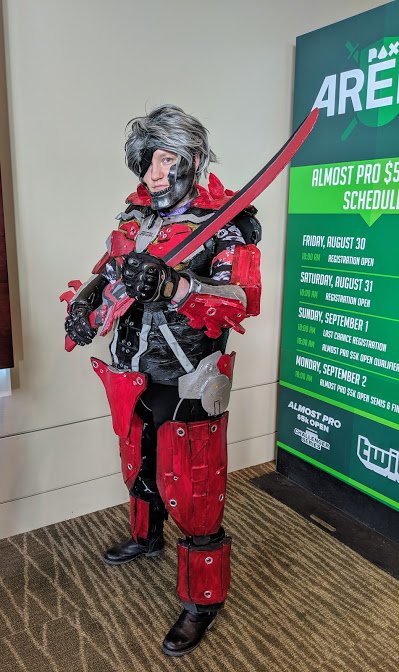 I didn't know with this character, but it is Raiden from Revengeance. We really appreciated the commitment to the costume and love of the game.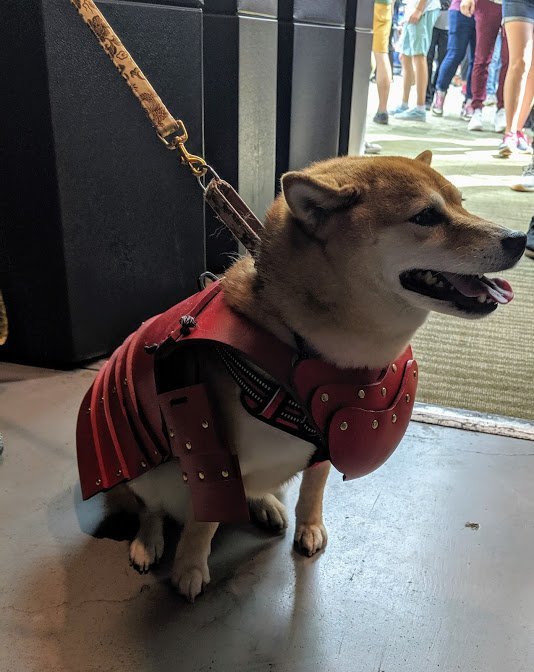 Here's a good cosplay dog, and was very good, too.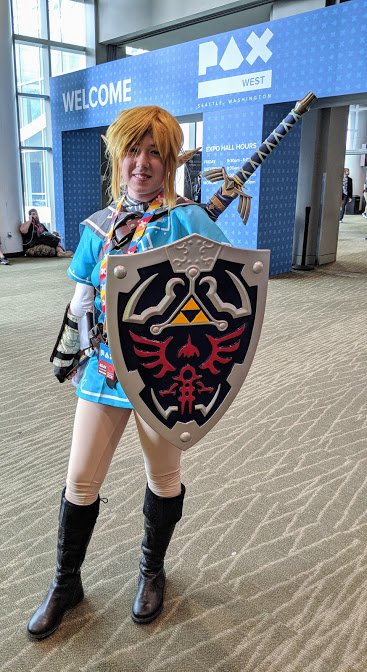 I always love to see Link cosplay, and there is usually no shortage of it. This one is pretty great.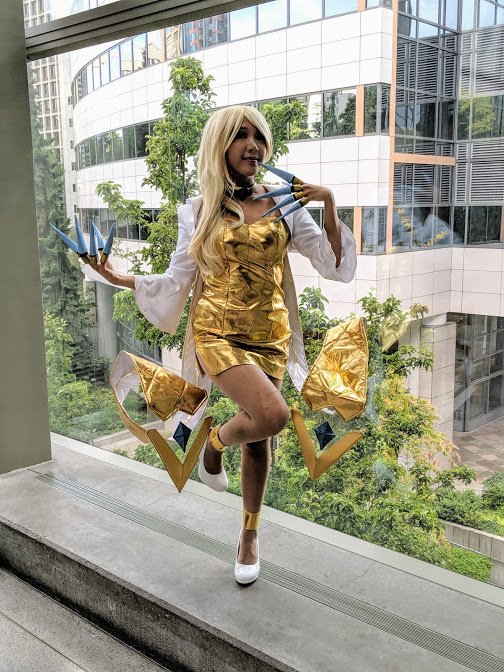 Once again, another League of Legends character, and I will have to admire how this Evelynn can make her clothes float.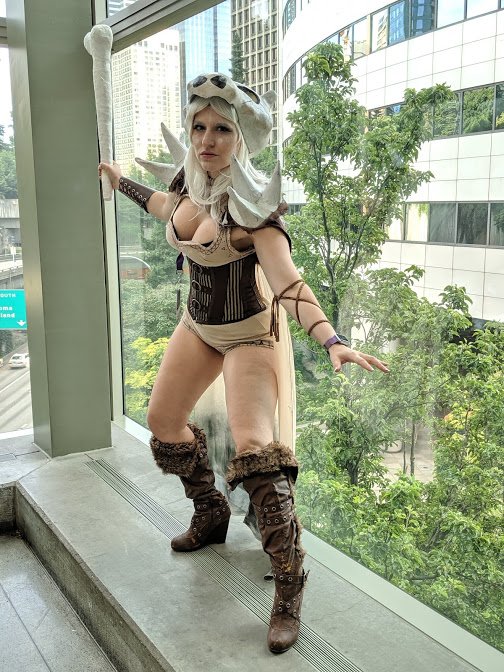 I can't believe that I didn't see that this is a Pokemon. Yeah, this is a Cuebone.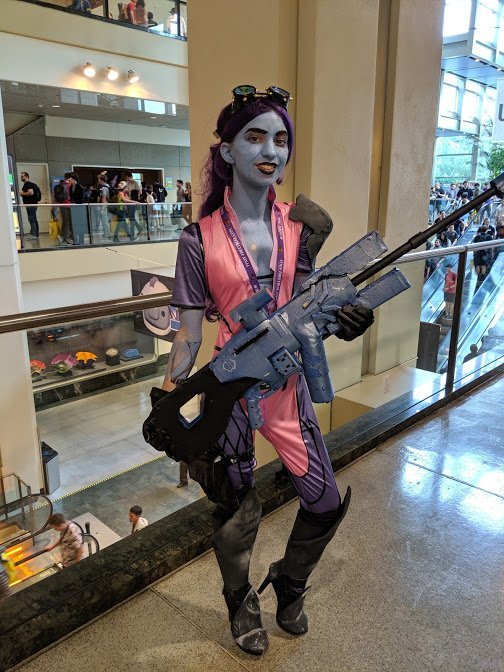 Welcome to another Overwatch character with Widowmaker. It's quite a disguise.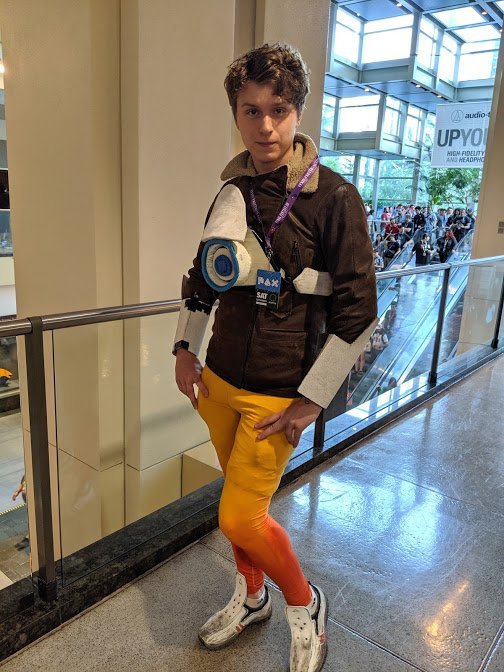 Glad to see you, Tracer!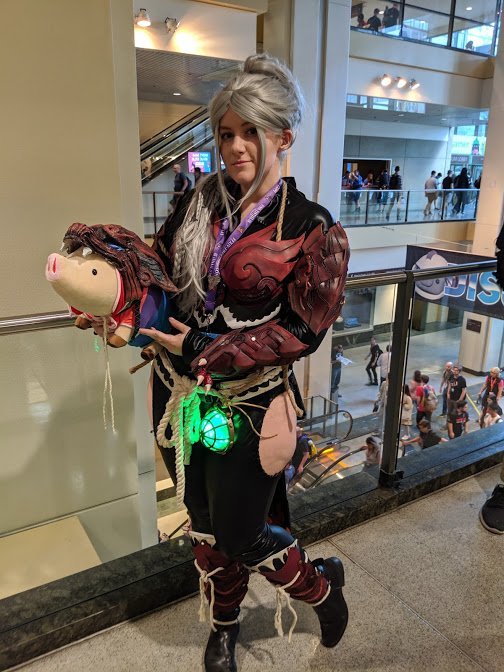 I am told that this is a Odogaron Hunter, and I'm not big into Monster Hunter World, but I love this costume.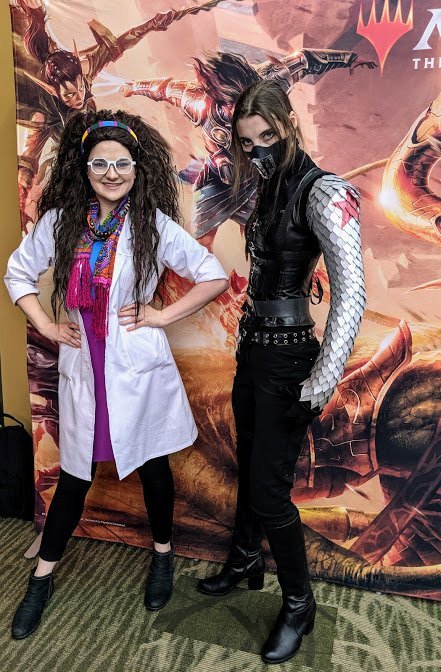 Isn't this awesome! It is Liv Octavius from Into the Spider-Verse and a gender-swapped Winter Soldier. Yeah, I had to take this pic, and I'm glad they posed. The arm is not for sale, but I am told it is made of twenty bucks worth of cereal boxes.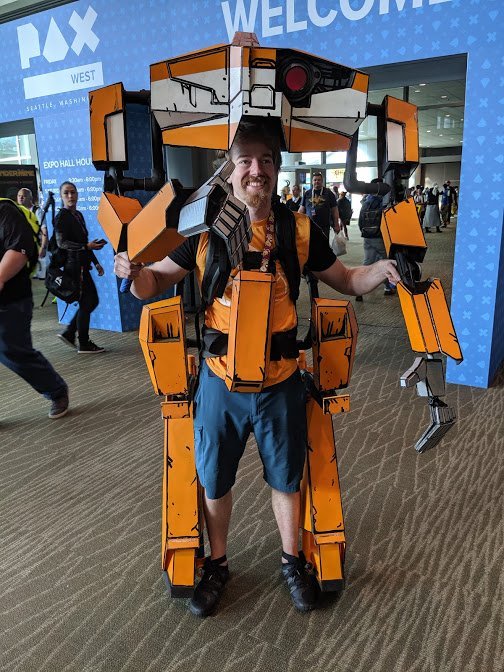 I had to end on this awesome robot guy, and you just have to see this Borderlands robot in real life to appreciate him.
Other Highlights of PAX West 2019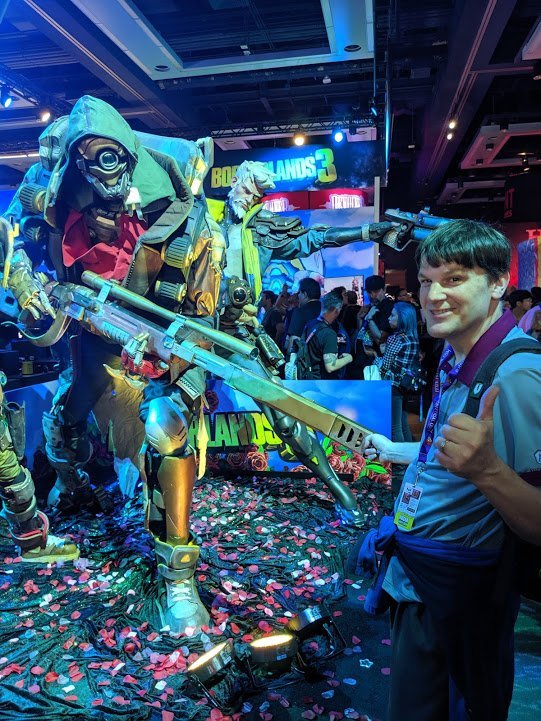 One of the big things going on at PAX West 2019 was 2K Games preview of Borderlands 3. After I blocked this guy's gun, I was told "no touching".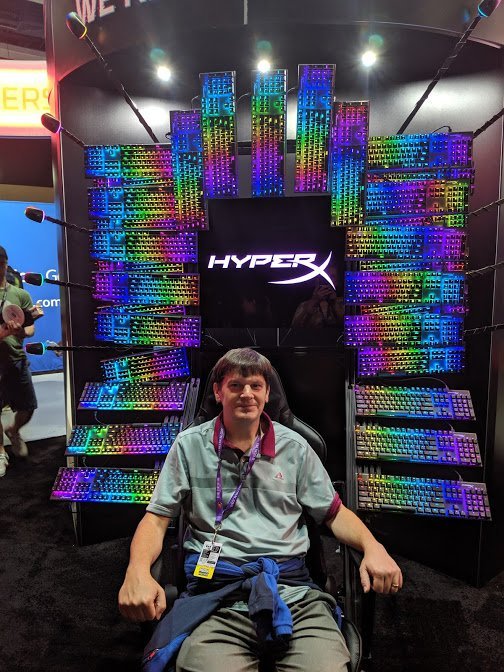 It has been a while since I reviewed HyperX products, and I was pleased to sit on the "Throne of Games". Uh, that was terrible.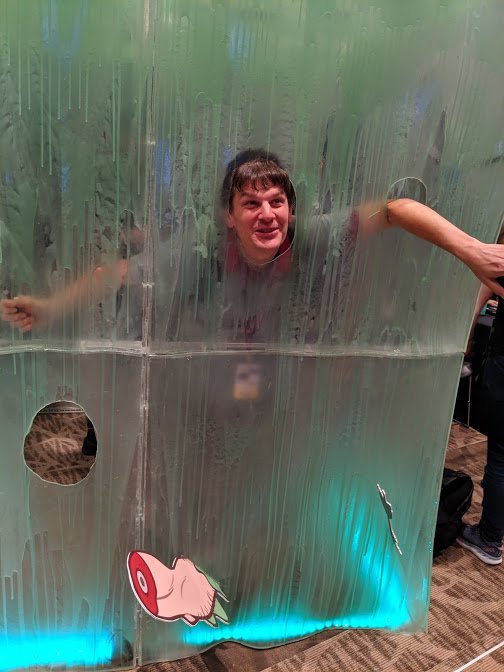 Well, you know how it is, you are looking at a Dungeons and Dragons related thing and suddenly you are consumed by a gelatinous cube.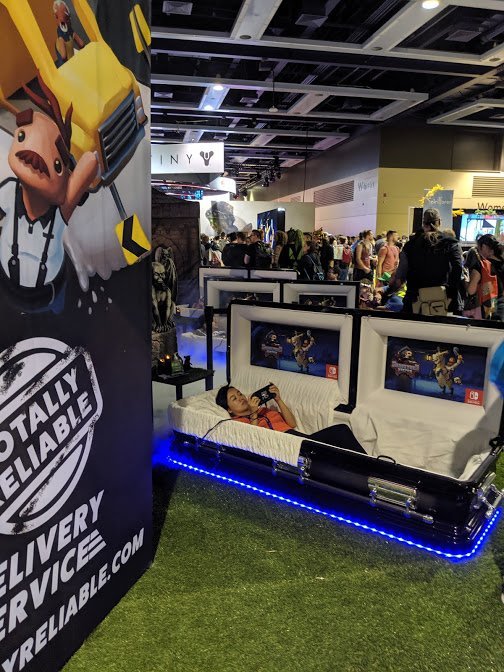 This exhibit from TinyBuild was pretty incredible as it allows for playing Grave Keeper in a coffin.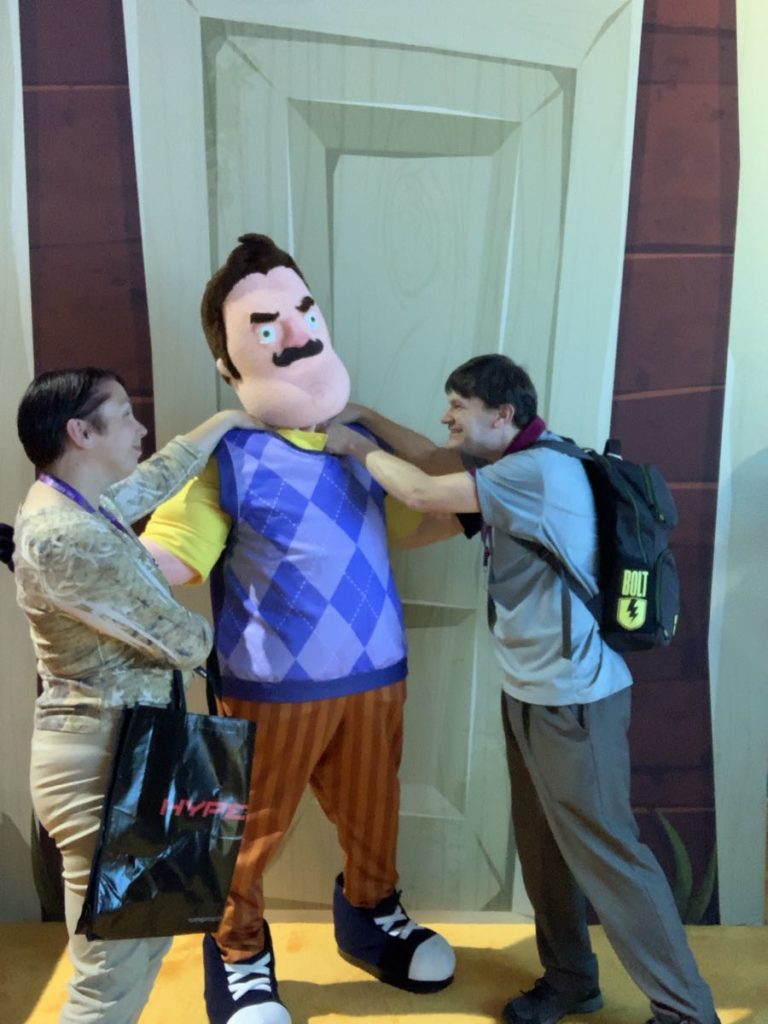 Another TinyBuild attraction was this thing from Secret Neighbor. I can't be the only one that thinks this guy looks like Ron Swanson.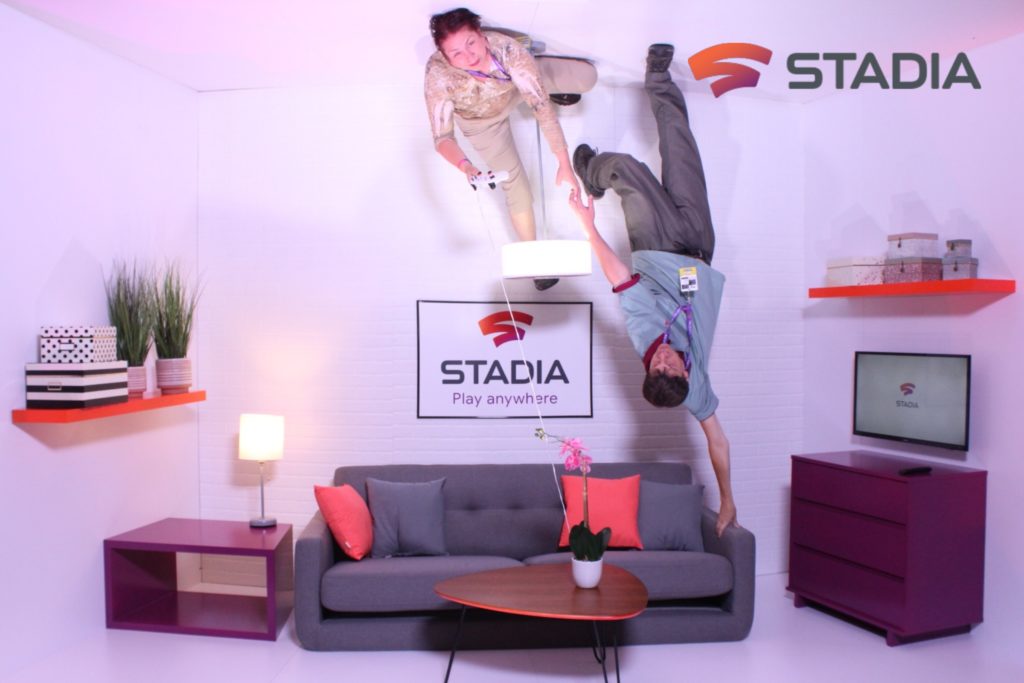 Stadia is apparently this game streaming service from Google, and we had a ball with this photo opp.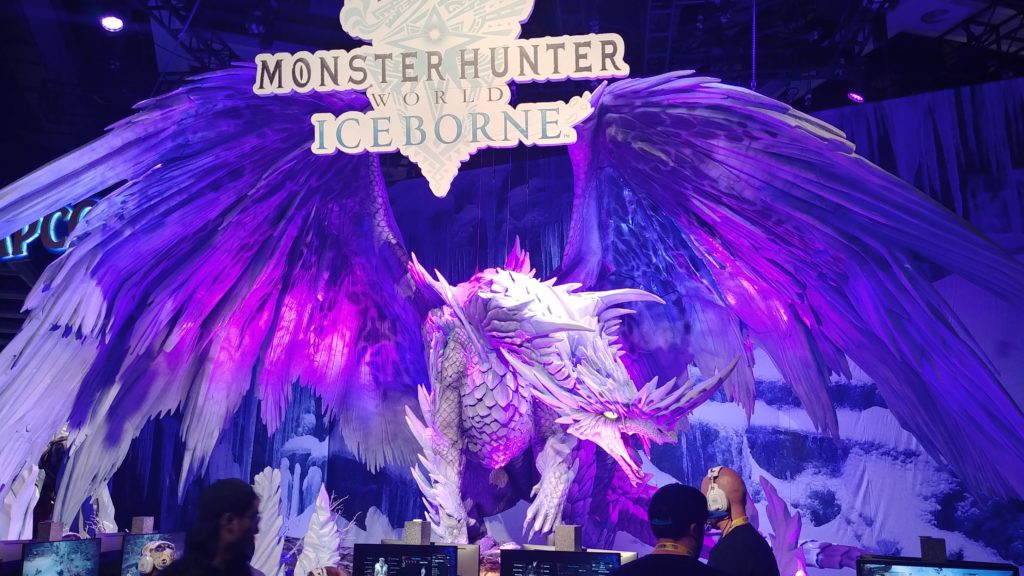 I just discussed Monster Hunter, and I was pleased to see Capcom had something on display with Iceborne.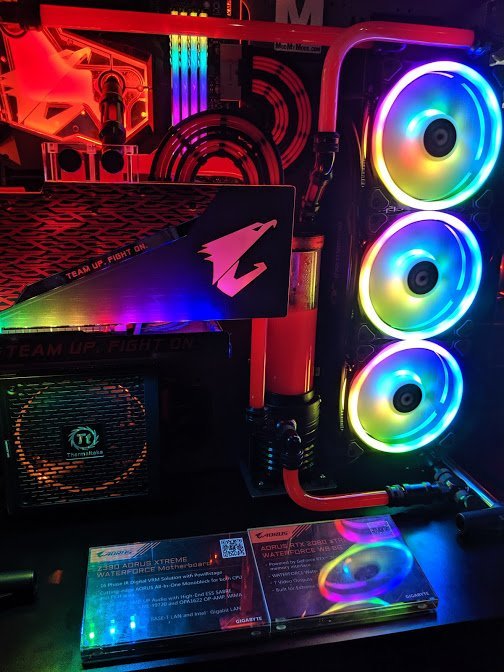 I really need to do more research about what Aorus does, because these are just darn beautiful.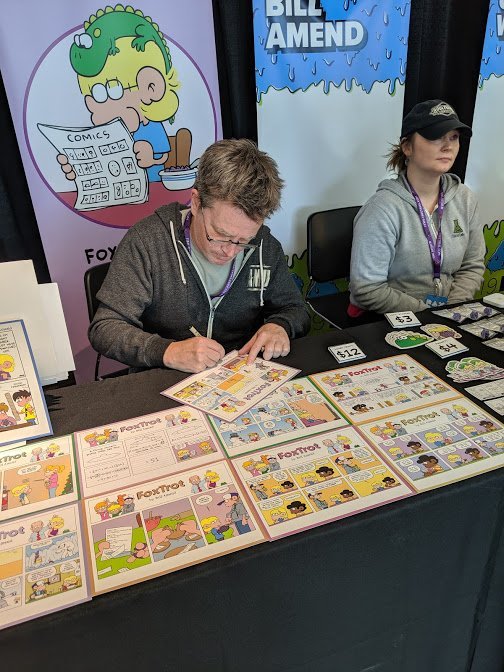 You never know what or even who you are going to see at PAX. I could not believe that we ran into the creator of Fox Trot, Bill Amend! I couldn't believe that he didn't have a line!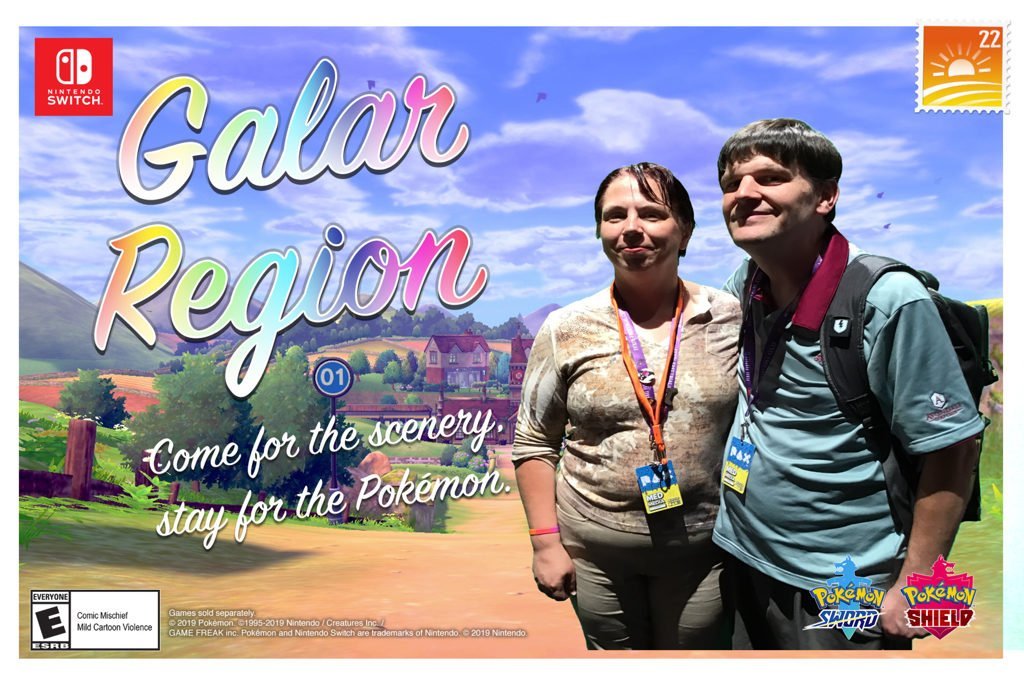 Here's our postcard from the Galar Region from the game of Pokemon Sword and Shield.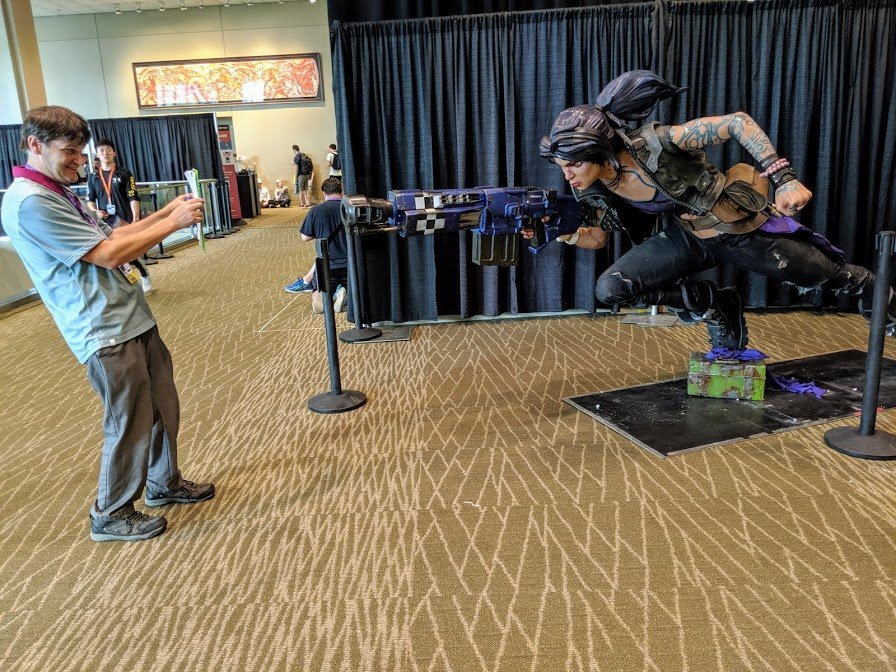 Well, I'm glad I came to PAX West 2019, so here's a final shot.