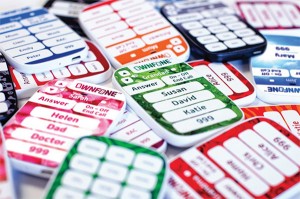 I think we all know that our kids are going to have all kinds of cellular phones. If you can't afford a smartphone, you might want to pay a small price so the kids can have a "dumb" phone.
This OwnFone is probably a "dumb" phone, but it is unique and it is prepared for the real world. Chances are, you have a kid who wants a cellular phone (like I do). You probably don't want that kid accruing huge bills from downloading apps or long-distance charges, and that kid only wants to call a handful of people in the first place.
The OwnFone allows customers to choose from 2, 4, 8, or 12 contacts that can be pre-programmed into the phone itself. You can see that each of them are represented by a number like "Mom" or "Dad". It also has a button for emergencies.
Yes, this is probably a phone designed for the young, but it could probably be made for the old as well. I'm guessing that many senior citizens don't make a lot of cellular phone calls.
Unfortunately, this phone is only available in England for a price of £55. I can't help but wonder if this will work out well for OwnFone and it will come to the states and other countries as well.