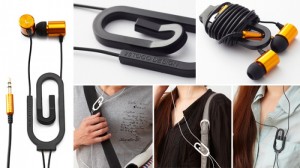 I often believe that the best new ideas are the most simple, and often times the best ones are the ones that we, as consumers, can't help but wonder why we didn't think of it first.
Such is the case of this Paperclip Headphones. Considering that many of us have a problem with our headphone or earbud cords getting all tangled and whatnot, isn't it good to have one with a built-in clip?
A lot of headphones/earbuds come with a clip, but this is the first that I have seen that has a literal paper clip. I figure that if you are going to use a clip, you might as well model it after a paper clip. You probably don't want to unfold this one, and this one is hollow.
So far as I know, I have only found these things on the 25togo Design Store here, but it is Taiwanese, so I am not certain how much it costs.