Pelican products have been protecting things since 1976. I know that we've reviewed products from them several times. We'll get another chance to review their sturdy cases with three different phone cases for iPhone X/Xs and a heavy duty utility case.
Pelican Voyager for iPhone X/XS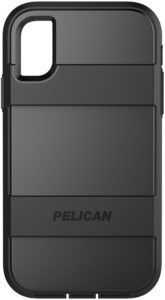 This case has 4 layers of extreme protection. Built to military grade standards of drop protection, the elastomer inside a rigid polymer shell will give you excellent protection. Also included is a holster with a swiveling belt clip that you can use as a kickstand to view media on your phone. A free scratch- resistant screen protector comes with it as well.
This particular case costs $49.99, and is guaranteed for life.
Pelican Shield for iPhone X/Xs
This case also has a holster. The protection on this one is extremely high. You could even say bullet proof, maybe? It is made with Dupont Kevlar brand fibers- the same stuff they make bullet proof vests from. It also has polycarbonate in its casing and TPE rubber for 5 layers of protection. Often times we'll talk about a case meeting military grade standard drop protection. This case meets 3x that, so you can be assured this case will save your phone from falls.
Amazingly, this protection only costs $59.99 on the Pelican page. There's also a free gift offer of a glass screen protector at the time of this writing when purchased on the Pelican site.
Pelican Protector for iPhone X/Xs
This case is still rugged and meets military grade drop protection standards. It's has a dual layer protection, and the surface has a non slip grip. The front wraps around with angled edges to protect the screen from impact as well.
Along with the Aqua/Grey color combination that we have, there are some other colors available. You can get it in Black, Metallic Rose Gold/Rose Gold, Metallic Silver/Silver, and Black/Grey. This case is out of stock on the Pelican site at the moment, but will cost $39.99. There are others on Amazon in various colors for some different prices.  A lifetime guarantee is on this case as well.
Pelican GoCase G40- Large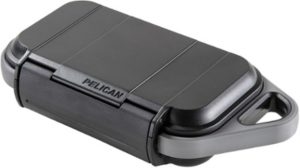 This case by Pelican will hold a phone, but it holds other stuff as well!
This size (7 x 3.5 x 1.6 in) case is good for those on the go who want to protect their phone from the elements, but also carry their cords, credit cards, and other small items that will fit in this case. It closes with a single hinge latch, and has a rubberized protective bumper. An IP67 rate means that this case will protect up to a depth of 1 meter for 30 minutes. The inside material is an abrasion resistant texture.
A tray on top separates your phone from other smaller items on bottom, but most phones will slide around inside. It still will keep your phone secure. If you have a Pelican case on your phone, you should be doubly set!
This case costs $39.95 on Amazon.com and comes in a variety of colors. You've got Anthracite/Grey, Blush(Pink)/Grey, Lime/Grey, Slate/Teal, Surf Blue/Grey, and White/Aqua.
Thanks to Pelican for sending us these products to review. No other compensation was given in exchange for our fair and unbiased analysis.