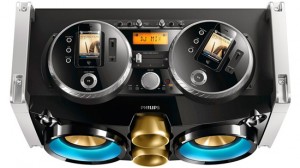 What you are seeing here is the FWP32000D DJ-Dock and it is designed to house two iPods or iPhones in the middle of turntables. In case you don't realize what this is for, you can mix and scratch like a DJ.
Man, I wish I knew how to do DJing and such, as this has some seriously cool stuff on it. It has some glowing lights with speaker rings that glow in pulse in time with music in red, purple, and blue. The speakers are 5.25 inch woofers and 2-inch tweeters. It also includes a crossfader, treble/bss controls and a power boosting to "MAX" Sound mode.
If you don't want to use iPhone or iPods, you can use something from the USB port or flash drive, and there is even an Aux-in port for any non-Apple device. Oh, there is also a microphone, so you have "two turntables and a microphone". Like the song "Where it's At", from Beck.