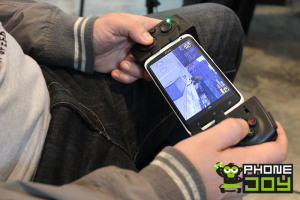 I think we all know that the mobile phone/tablet market is going to put a major dent in the gaming industry, especially the portable kind like the Vita and the DS. Remember that article we did on the Nyko PlayPad? Well, here is another gaming controller for Android (and iOS) devices known as the Play.
It is designed by a company known as PhoneJoy. The PhoneJoy Play is made for both tablets and smartphones, as it can stretch out in the middle of its two joysticks, d-pads, and other buttons. And hey, look at the buttons, they spell P-L-A-Y, isn't that clever?
I have to admit that this is a pretty good design for a GamePad, and I am most certain that we will see more devices like this in the future. By the way, this GamePad can accommodate portrait and landscape views, and I suppose that is good for whatever game you are playing.
Too bad this is currently a Kickstarter project, which means it needs your funding to get it working. With about $50, you can get in on this Bluetooth 3.0, 20-hour battery-life deal.