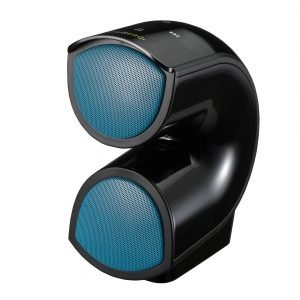 We're going to be on a roll with products TechnoMark was introduced to at CES. This product looks a little odd, but worth a listen. This Bluetooth speaker is by a company we haven't heard of before. I did a little research, and Museeq is a newer company founded in 2013. They make all kinds of audio products, and many of them are unique like this.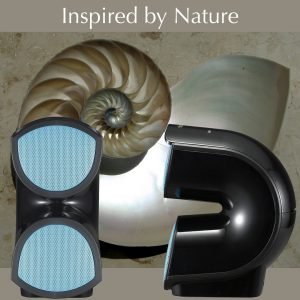 I can see how it looks like a conch shell… Honestly, the shape seems to be more for aesthetics than anything, but the speaker is very loud. Probably not what a true audiophile would look for in a speaker, but good for those who want amplified music at their outdoor parties.
The Stats
With a 4400mAh capacity, you are looking at about 6-8 hours of playtime on a 4 hour charge. The speaker is lightweight (450 g) and not extremely large (117 x 75 x 150 mm). It really does play loud, though! It comes in the black/blue color shown, and also a white with black accents as the model we received to review. This product is able to connect to many things if you don't have Bluetooth capabilities. A small microUSB cord comes in the box, as well as a small 3.5mm AUX cord. So if you want to use it to amplify the sound on your computer, you could easily plug it into the headphone jack.
Likes/Dislikes
I may have mentioned that this thing is loud? This is a good thing, and maybe a not so good thing.  The model that we received didn't have instructions with it, but I found some online. The only thing that I really couldn't figure out without the manual was the volume. Turns out that you need to long press the same button you use to advance. I feel that this could be problematic. You might skip a song before you can turn it down. The "buttons" are really just touch sensitive, so it works by tapping and no real feedback. The pairing by Bluetooth was the easiest thing, and I appreciated that there wasn't anything to download. The on/off switch is on the bottom, so you'll have to pick it up to manually turn it on and off. The really bad was annoying beeps that were super loud to alert. A good thing is that you can easily answer calls through the speaker as well.
Overall, this is a nice Bluetooth speaker/conversation piece that the average Joe who wants something inexpensive can appreciate. You can find out more about the product that sells at places like Amazon.com for $39.99 on the Museeq site.
This review is our own, and we are not sponsored by Museeq, but we did receive this product for free in exchange for our review. No other compensation has been given to influence our unbiased analysis.