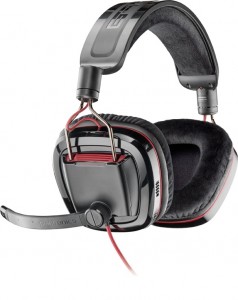 I have tried out a lot of gaming headsets before, and I was pleased to receive the Plantronics GameCom 780 the last time I went to PAX.
The first thing I noticed about the GameCom 780 is that there is no plug for the headphones or microphones. Instead, there is just one USB port, and all that is required is to plug it in. The drivers download automatically, and I had 7.1 surround sound in minutes. For those that care about tech specs like this, it has 40 mm speakers for deep bass.
I also found that turning up the volume was quite cool as the volume and mute buttons were located right on the headphones themselves, which made it easy to access. I also liked the comfortable ear cushions, and they came with built-in spin joints to allow them to lay flat.
I should probably take a moment to mention the noise-cancelling microphone, and it kills background noise so you can speak directly to your players. This headset is also good for listening to movies as well as gaming. I tested it out on the first ten minutes of Titan A.E., so I know it works well.
In short, I recommend the GameCom 780 for all PC gamers and Netflix on the PC lovers everywhere. You can purchase it on the Plantronics site for about $79.99.