Plugable is a company that makes docking stations and hubs to provide more versatility for your computers and laptops. The one we are about to review is their smallest one yet- great for all the extras you need with little room.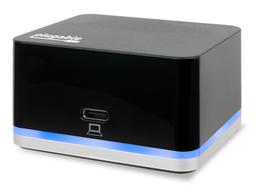 The Plugable USB-C Cube docking station looks big in this picture, but it's actually quite small. At a mere 2.5 x 2.3 x 1.4 in, you can save a lot of space on your desk while connecting in 3 USB type A ports in the back. 2 are 2.0 and 1 is a 3.0 connection. There is also a port for HDMI supporting resolutions up to 4K@30Hz, 2560×1440@60Hz  and 1920×1080/1080P@60Hz. An ethernet connection is also on the back. The blue LED light around the base lets you know that it is powered on and working.
It's important to know that this box does not charge your laptop. There is only 15W of power, which is not enough to charge a laptop, but there will seem to be a charge going on. You will still need to plug your laptop in with it's own power cord to charge it up.
In the Box
The UD-CUBE Mini Dock
A 36 inch USB-C to USB-C cable
Power Adapter (20W 5V/4A, UL60950-1)
Quick Start Guide
Here's a video so you can see more of how it works and exactly how small it really is:

Thanks to Plugable for sending us this product to review free of charge. If you want one of your own, they cost $109.99. We are not sponsored by Plugable, and we are giving our fair and unbiased analysis of the product.