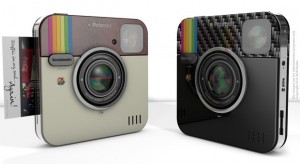 I think we all know how influential Instagram is in our socially-connected society, and it is only reasonable that there be consumer electronics devoted to it. Some of you may remember when I discussed Socialmatic's Instagram camera, and it would appear that Polaroid adopted this gadget, planning to released under the name "Polaroid Socialmatic Camera".
What you are seeing here are concept mock-ups, not too dissimilar to the Instacube. You will note how it looks just like the icon to Instagram, and here is what I know as far as the specs are concerned:
It has a 4.3 inch touchscreen, 16GB of internal storage, Wi-Fi, Bluetooth, LED flash, and a built-in printer, just like Polaroid. I have even hear that the printed picture will have QR codes on every picture taken.
Unfortunately, I don't have a day of release on any of this. I would love to see how this product impacts the world. I suppose we shall see.