If you have never heard of Poldera before, I am about to give you several reasons why you should care. I can tell you that if you have an iDevice with a 30pin connector, you should get yourself some Poldera products.
I will start with the iKeep Secure. This is a belay that comes with a retractable cable, made so you can keep an iPhone or iPod on your person. Considering that most of us can't live without our iPod/iPhone, it is good to have some extra security to keep it on your person.
I had a chance to test it out, and the connector stayed on the iDevice very well. In fact, I wasn't certain how to get it off until I saw there was two buttons on the connector. You should be able to get the iKeep Secure on the Poldera site for $21.99 in Black, Silver, Gold, Blue, White, Pink, and Yellow.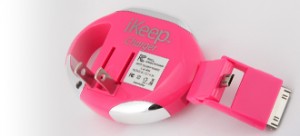 Similar in looks to the iKeep Secure is the iKeep Charger. The iKeep Charger has a retractable cord, and it comes with two retractable prongs that you can see to the right. You can plug it into the wall, and it also has a micro USB, so it is good for charging devices with that connector port as well. It is available at the Poldera site for $49.99 in Gold, Silver, Black, Blue, Pink, White, and Yellow.
In addition to the iKeep Charger and the Secure, Poldera also has another interesting product with the 6 foot Candi Cord, a USB cable with a 30-pin iPod connector and micro USB port. This is available on the Poldera website for about $24.99 in Lime Green, Blue, Purple, Pink, Red, and Black.