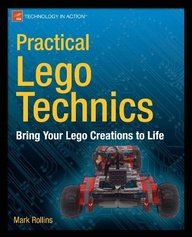 In case you haven't heard, I also write books too. Yeah, I suppose this would be called promoting my work, so let's make it good.
Now that I am back from CES 2013, I found copies of my latest book, the Practical LEGO Technics: Bring Your LEGO Creations to Life waiting for me. I had the idea for a book about Lego Technic about a year ago, as I realized that there are a lot of books about Lego Mindstorms, but very little about Lego Technic.
So, here it is, a book on Lego Technic. I had to purchase a lot of Lego Technic sets, but the good news is that I can claim them on my taxes this year. I almost want to be audited just show I can show the IRS just so I can show them my book.
I will have to say that writing this book was tough work. Don't get me wrong, as it was a lot of fun, but some of the models took a lot of tinkering. Yes, it took a lot of work, and others can enjoy building with Lego as much as I have. This one will show you how to make cars, planes, helicopters, and even some construction equipment.
You can get the book on Amazon here.