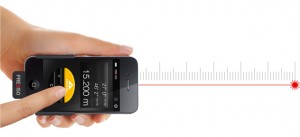 I have never used one of those laser sights to measure something from here to the opposite wall, but if I did, I am glad to know there is an app for that.
Of course, using this app requires a separate gadget, one that sits in the 30 pin connector, and I would assume that they (had better) have one for the iPhone 5.
According to my Source, the iC4 is good at "measuring distances and volumes, identifying how much wallpaper is needed in a room, and optimizing rooms for home theatre use".
Well, I don't have a price for this thing for now, but it will be available on Novemenber 5th.