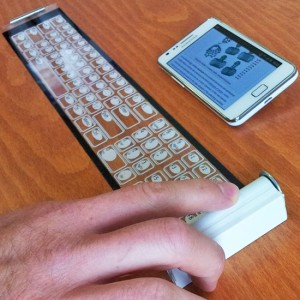 I know that I have said this before, but the only difference between a smartphone and a laptop is a bigger screen and a clickity-click keyboard.
You could get yourself something like a SOLO from ZAGG, or you could just get yourself a Qii. The Qii is different because all the keys, including the numeric keypad, are able to roll up and fit right in your pocket.
Unfortunately, this is not a real product, at the moment. At present, it is a is crowd-sourced project, just like those things that you see on Kickstarter or Indiegogo. It is looking for a lot of funding (almost $2 million), and it will probably be about $140 when it does come out.
If you want to know more, stay tuned after the jump, where we have a video showing it off.