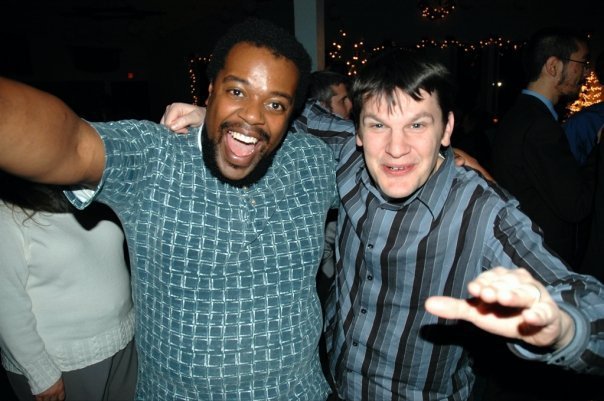 Those of you who know me personally know that I once had a best friend named Ike. He is the man on the left in the pic, and he passed away approximately ten years ago.
I first met Ike around 1998, when he and I went to the same church. I found it weird that he went to the same high school and even had the same job as a dishwasher at a pizza restaurant. It was not at the same time, but it was an odd coincidence.
It took a while before Ike and I became good friends. It used to be that my wife worked on Saturday night, and I had a difficult time with our kids, who were in diapers way back then. Ike would come over and help me take care of them, and we would usually play video games or watch movies.
We spent a lot of time together, but he eventually moved to Atlanta to be closer to his family. We still would talk on the phone, about two or three times per week.
Then one day, he didn't call, and when I called him, he didn't call back. I had this horrible feeling that something horrible had happened to him, and so I did a search for recent deaths in Atlanta. Sure enough, I found Ike's name. That is a terrible way to find out that your best friend has passed away, and I don't need to tell you the pain that I felt.
The next day, I received a call from Ike's sister, Nneka, who was simply just calling all the people that Ike had on his contact list to inform them of the bad news. I told her that I already knew that Ike had died, and she told me that they were going to have a funeral.
I was fortunate to have Pastor Phil Vance of Living Faith Fellowship pay for my ticket down. I also found some friends to stay with, and was able to share a few words at Ike's funeral.
What happened after was heartbreaking as we had to drive from the funeral to Ike's final burial site. I had to see the coffin go into the ground and then a bulldozer shovel a whole bunch of dirt on it.
The cause of Ike's death was a blood clot in his leg, and his mother told me that he was very sick in his final days. Ike was even in a wheelchair, which was something that Ike never shared with me over the phone.
I don't really remember our last conversation, but we had so many that it is difficult to find any that stick out. I do remember asking him if he wanted to talk about his trip to the hospital, but he just didn't want to talk about that. Instead, I remember just offering to talk about whatever TV shows or movies that I had seen, nothing really vital.
Maybe that's why we have friends, so we can distract ourselves from the difficulties that life brings us. Whatever the case, Ike was my best friend, and not a day goes by where I don't think of him. I'm very pleased that my old two kids still remember him, and still remember calling him "Uncle Ike". He is quite a man, and it I'm glad I had a chance to know him.