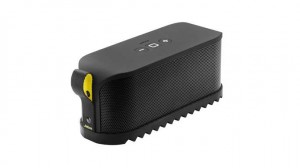 I suppose that the Solemate gets its name because it has a "sole" of its own. You can see underneath it that it looks like the bottom of a shoe.
I have reviewed many Bluetooth Speakers in the last few weeks such as the iShower and the HMDX Jam. I found that the Jabra Solemate lives up to its slogan of "Looks Small. Sounds Big". I had an easy time hooking it up, and I found that the bass was completely rocking.
This is due to the three front-facing speakers. I went ahead and played some songs on it, and loved the sound. It also works as an excellent speakerphone, so you can have some excellent conversations.
It works with Bluetooth 3.0, and there is even a suave voice on it that explains how to pair it, and tells me when it is wirelessly connected. If you don't like wireless sound, it comes with a cord that conviently fits underneath the "sole" so you can hook it up to any device with a 3.5mm connector port.
In short, the Solemate has what you are looking for in a Bluetooth Speaker, it is loud and durable as it comes with a sound bag for protection. If you want to purchase it, I found it on Amazon for a price of $199. That might be a high price, but the sound is worth it. You can find out more information on it here.