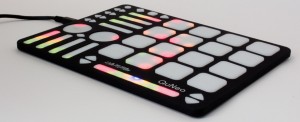 I had a chance to try out the QuNeo from Keith McMillen Instruments, and all I have to say is…oh my gosh! The QuNeo is a pad controller designed to work for DJs, VJs, and anyone else who dreams of making electronic music. It is no surprise to me that one of the QuNeo's backers included Herbie Hancock.
The QuNeo is a pad that you see here with "16 square pads for 127 levels of velocity response". What that means is that you have a series of buttons that you can use on such popular music software that includes Ableton Live, Serato Scratch Live, Traktor, Apple Logic Pro, Mixxx, Reason, Battery, BeatMaker for the iPad, and Korg iMS-20 for the iPad.
I tried out the QuNeo on a program called the Mixx. It took me a while to make certain that my computer was synced properly with the device, and I also had to set up the controls so it would do what I asked.
In no time at all, I had an MP3s playing on Mixx, and I was able to do scratch effects, reverses, loops, double times, half times, and all sorts of other DJ things that would easily distract me from my work. I just mixed an audio book from my friend known as Fallout Equestria with the Party Rock Anthem. I get the feeling that I could mix any two tracks together.
Now, I don't have much experience DJing or even watching DJs, but I have always admired their sprezzatura (an Italian term for the ability to make a difficult talent look easy). I would imagine that it would take me quite a while before I would be ready to kick a party up a notch.
Still, the QuNeo is quite fun, and quite a kick as well. You should be able to purchase the QuNeo on the Keith McMillen site for about $199.