Another bluetooth speaker review is coming your way today. Back in 2018, we reviewed a Soundcore speaker by Anker called the Flare+. The speaker we will review today, the Flare 2, is an upgrade on that speaker. Let me tell you a little more about this upgrade on a great product.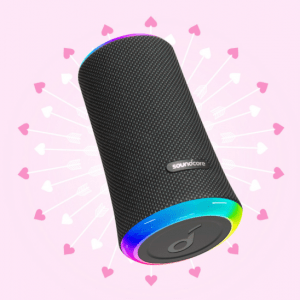 Lights
Okay, so my favorite thing about the speaker is the lights. The old Flare only had a ring around the bottom. This one has a light ring around the top as well! Now, you can get a great light show on your floor AND your ceiling. This will eat up your battery, of course, but it's still great. The battery lasts for up to 12 hours, so you have time. You can adjust the lights, which dance to the beat of your music, in six different modes on the Soundcore app.
Sound
This 360 degree surround speaker can pack a big punch on its own with 20W sound through dual drivers and passive radiators and BassUp™ technology. In the past, you could buy 2 Flare speakers and chain them together to get even more sound and lights. Now, I'm told, you can pair 100+ of them together connected to one device, and that's just gotta be a whole lot of sound! The Equalization can also be adjusted through the app as well.
Waterproof
This little speaker is great for pool parties. It can be fully submerged (assuming the plug on the port is closed) and still play. It has an IPX7 rating, which means it can be submerged in 3 feet of water for 30 minutes.
Other Features
This product weighs only 1.29 lbs, and about the size of a coffee tumbler. The included USB-A to USB- C cord provides "fast" charging- 3.5 hrs at 5V/2A.
Ready to buy?
The price has come down a bit, since the Flare+ was brought out. A similar speaker would cost $99.99. This upgraded speaker is only $79.99. You can buy it on the Soundcore site, or Amazon.com.
Thanks to Anker for providing us another great Soundcore product to review. No compensation has been provided in exchange for our fair and unbiased review.