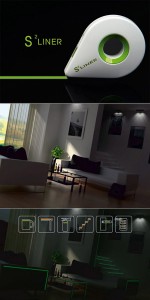 I have said it before, and I am certain that I will say it again, but the best inventions are the ones that I wish I had thought of. I mean, this S2 Lighting tape really solves a daily (or nightly) dilemma.
I realize that this is cliche, as I will begin with "how many times does this happen to you"? Seriously, have your ever turned out your lights for the night, and then stumbled around in the dark, only to bump your knee against a coffee table?
Imagine having tape that would light up when the lights are off. The best part is that no one will know the lighting strips are there unless the lights are off.
Yeah, time to get some S2 Liner tape, man! I really can't help but want this. Oddly enough, my Source does not reveal where to buy it.