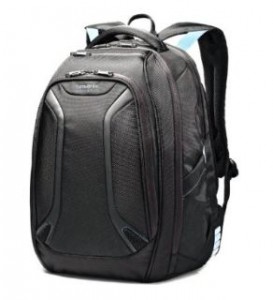 I figured that most of my readers might be reading this on a smartphone or tablet while waiting for a store to open on Black Friday. I might as well tell you about a deal I saw on the Samsonite website, and a product that I have tried out.
I will get to the price later, but let me tell you all about the Viz Air laptop backpack. First of all, it is made of 1682 Denier Nylon, a durable material made to make it through life's wear and tear. It has three air bumpers on the bottom corners of the bag to add all kinds of protection.
It is designed to accommodate a 15.6 inch laptop, and there are like three levels of pockets for papers and more. Heck, you could probably fit a MacBook, iPad, and iPhone in this, and they would be pretty well protected.
All of this would be in padded shoulder straps along with a padded strap on top to hold with one hand.
Yep, it is a good deal, and it costs $67.05 on the Samsonite site from a price of formerly $199.98. That is a deal of 66 percent. Nice. It's on, Black Friday.