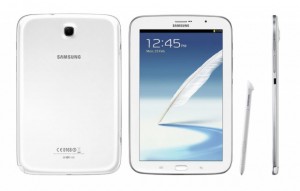 As you may or may not be aware, there is a big event in Barcelona known as Mobile World Congress. All the big companies from the mobile world are represented, and ground breaking announcements will be made.
Rumor has it that Samsung will announce the Galaxy S IV, but I guess they had to get the Galaxy Note 8.0 tablet out of the way. Many would say that this 8-inch screen tablet is made to compete with the iPad mini, and I suppose the comparison is fair. Of course, the iPad Mini doesn't have a pen, and Apple's device don't exactly play well with styluses. The S-Pen supports 1024 levels of pressure sensitivity, and it has a Wacom digitizer.
so let's get to the stats. It has a quad-core processor and Android 4.1.2, and it will come in Wi-Fi only or WiFi/HSPA versions. I am told it can be used as a high-tech universal remote.
I'm not certain what the success will be for this, and I don't have a word on the price or release date.