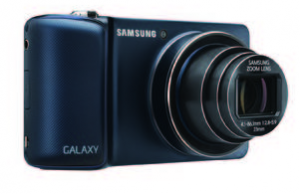 I realize that it is not CES anymore, but I will be reporting on all the innovations unveiled there for many months after. I will have to say that Samsung had several things to unveil, and one of them was the Galaxy Camera.
The Galaxy Camera is the first 4G LTE camera, and it uses the 4.1 Android version (Jelly Bean) to take high-quality pictures, and then share them. This allows its users full access to Instagram and other photo-related apps.
The HD super Clear LCD touchscreen is at 4.8 inches, and it has a 16 Megapixel lens, 21 x optical zoom lens and optical image stabilization.
Now prepare for the price, it is at $549.99 in cobalt black and white, exclusively to Verizon Wireless.