I honestly cannot remember when was the last time I did a review of a Scosche product, but I seem to recall visiting their booth at a conference, and it was small. I believe that this company has grown quite a bit since I first saw it, and I'm going to be reviewing the MagicMount Pro Charge and the BoomBottle MM.
Scosche MagicMount ProCharge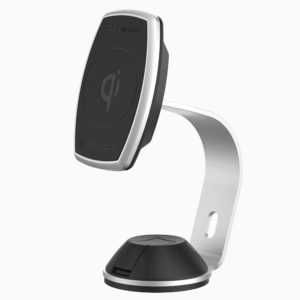 So, what is it that makes the MagicMount so magical? I suppose that it is because it can stick in two places. Well, there is this StickGrip suction base provides a strong hold to any surface, so you can have something solid to keep what you charge your device on. You will need to keep it wired, which is something that this illustration doesn't show.
Okay, so the bottom is taken care of, but what about the top? Well, there is fortunately a MagicPlate which allows for mounting to a case or directly to a device. Once that MagicPlate is mounted, you can just stick it onto the MagicMount and just juice it up that way. So, if you have a Qi enabled device, it should work, and this includes any wireless charging product from Samsung, Apple, or any company that has this feature that really should be standard for any mobile device.
You should be able to purchase the MagicMount ProCharge for about $69.99 on the Scosche site for $69.99.
Scosche Boombottle MM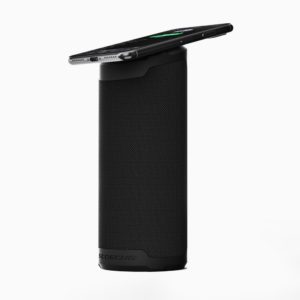 This next Scosche product, the Boombottle MM, is also made for those who want some wireless charging action, and this is Qi ready. The Boombottle MM is one of those waterproof wireless speakers that we have been seeing a lot of lately, and price-wise, they are not a dime a dozen.
The speaker has two passive subwoofers made for some decent sound, and I often find it hard to believe that you can put such good sound (12W dual (6W x 2) 45mm speakers and subwoofer) in something relatively small, and this fits in just about any cupholder. By the way, you can dual pair these speakers for some really great sound.
So the sound is good, and the speaker itself is made to be IP67 dustproof and waterproof. Seems like all these Bluetooth Speakers are made to be taken to the beach, or just left at home (or in the store they were purchased at).
But what you really want, and is most likely the big selling point of this speaker is the fact it has a Qi wireless charging platform on top, made for giving a user up to 12 hours worth of battery life.
All these features, and this thing comes with a bottle opener near the controls. I could say that "I wish I was kidding", but it sounds like I am kidding. Everyone needs a bottle opener sometimes, and this awesome product is available on the Scosche site for $129.99.