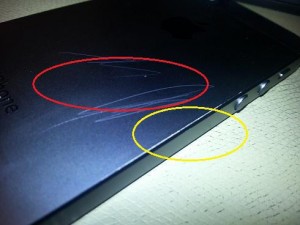 Now that the iPhone 5 has made a splash over the weekend, it is now time to report the downside.
The phone has had the fastest selling pre-order to date, but there has been reports that the new iPhone has been picking up scratches. Some have reported that there are scratches right out of the box, and some have reported that the iPhone 5 picked up more scratches over the weekend then downloaded apps.
The apparent cause of the scratches could be related to the anodized aluminum used for the iPhone 5 to make it lighter, and since it is softer, it is more prone to scratches.
Here we go again. Perhaps you might remember when the iPhone 4 came out, there was that whole Antennagate thing. Apparently, if you had an iPhone 4 back then, it would lose connectivity. This prompted a whole line of accessories and cases to prevent this, and I suppose that we are now entering "Scuffgate".
In a related story, the Foxconn plant in China, which makes the iPhones, has just experienced a riot. For years, I have been hearing stories about conditions there, and they have not been good. After the riot, over 5,000 officers were dispatched to the scene.
Of course, people are concerns that the Foxconn riot will cause problems with the iPhone 5, which is out of stock in many locations already.