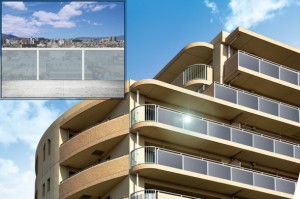 Some of you might remember when I brought up the subject of wind farms, and how they are popping up all over the place. I believe that I hinted on the possibility that harnessing the natural wind power of the Earth could solve pretty much any energy crisis.
I also believe in an untapped resource of solar energy, and it is a shame that we don't use it more often. Perhaps Sharp's new technology could tip the balances in our favor.
This is a see-through solar energy panel, and it is designed for a power conversion efficiency of about 6.8 percent with a maximum output of 95 watts. This module acts as a heat shield, and each one is about 4.5 feet wide by 3.2 feet tall at only 0.37 inches thick.
Now, if we could somehow put one of these see-through panels on every window, could this help us save some on our energy bills? I would like to think that the answer to that question is yes, because, like a diet, I believe it is the little things that you give up that take off a lot of weight.