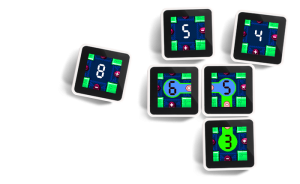 While I was at PAX, I got to see a very brilliant system of gaming known as the Sifteo Cubes.
I don't know whether I can do an accurate job of describing this, but I will try. The Cubes are these tiny little things complete with touchscreens that enable a very intriguing form of gaming. For example, I got to play a cut little game known as Chroma Splash that is sort of a match color game where you line up tiles of the same color to destroy them. Think of it as sort of a Bejeweled type game, but you rotate the five screen tiles so they line up with the proper colors. You can even tilt the tiles, so that certain tiles move to make them easy to line up.
Yeah, that was not the best description. I believe that Scrabble Flash has something similar to this, and Simon Flash is similar. However, you can spend about $20 to get one game, but why not buy the Sifteo Cubes for downloading many games?
It is a little more complicated than the aforementioned Flash Game things. It has a thing that syncs all five game Cubes together, and it connects to the computer. I don't know if you have to keep this thing around your computer to get it to work, but the games can be downloaded for about $8 to $10.
The Sifteo Cubes Interactive Game System costs about $129.95, and is available for pre-order here. It should ship on November 2012.