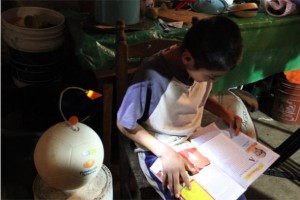 I think we all know that there are still places in the world that have no access to the easy electronics that we take for granted. Every time there is a blackout, I can't help but wonder how people leave without electrical light.
There is a new Kickstarter project known as Soccket that is designed to work as a ball and a light at the same time. The ball is designed for kicking around like soccer or kickball, and it has a pendulum inside designed for absorbing the kinetic energy of its kicks. When the ball is full charged, you can stick a flexible wire with a bulb on it and have some instant light.
In case you are wondering how efficient this is, I am told that 30 minutes of play on the Soccket ball will result in 3 hours of lamplight. By the way, the ball is made of foam, so it does not need any air.
I realize that this is a Kickstarter project, which means that it requires funding in order to get it to mass-production. I personally believe in this project, as I admire any project that can harness the usually unused power of kinetic energy for everyday electric power. I hope to see more projects like it in the near future.