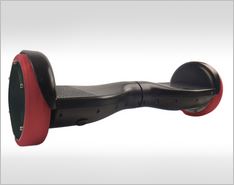 Today's review is of two new, cool gadgets that will propel you around and get you where you are going in style!  These were items that Mark came across at CES.  Next year, I'm going with him so I can experience all these cool things firsthand.
Hovertrax is like a light-weight, "look-Ma-no-hands" Segway! I could see people on the college campuses in our area riding around on these.  That is, if they want to pay $995 for one.  The Hovertrax goes 5 mph and will get you 8 miles before you have to charge it for 45 minutes.  This item is due to come out this year.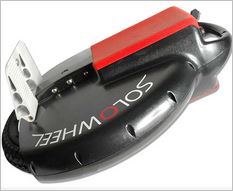 Another thing that can move you at Inventist.com is the Solowheel.  If you have a little more money to spend($1595), you can ride this motorized unicycle without a seat around town, or around campus, too!  It's a bit faster than Hovertrax- between 10 and 12 mph.  It runs for about 10 miles, and will need to charge for 3 to 5 hours after that.  The weight of the Solowheel is 24.25 lbs, and will hold up to 220 lbs.  It is supposed to be good for your core and balance.  When they reviewed it on the show "The Doctors," the new rider reported it as being quite a workout, and, of course, it takes a little practice to be able to control it.
Solowheel Extreme promises higher efficiency in power, more sleek,an LED light for nighttime riding, and built-in Bluetooth capabilities. Apps for smartphones, tablets and watches will be available in the near future. The Solowheel Extreme is more expensive at $2,295. You can pre-order this item, and order all other items at The Inventist website.