Monster products used to be a big part of our reviews, but it's been a couple of years.  With CES coming up, we're excited to be some of the first people to review some new Monster products that are now available to purchase at Wal-Mart. These products are the new IlluminEssence kits in the Essentials Collection.
Simply put, these products are to set up some mood lighting in your house. You can install them above and below cabinets, behind TVs, under beds, and in lamps. The sky's the limit- well, actually, the cord is the limit. *Ba-dum-bah*
Here are some products in the line that we received from Monster to review: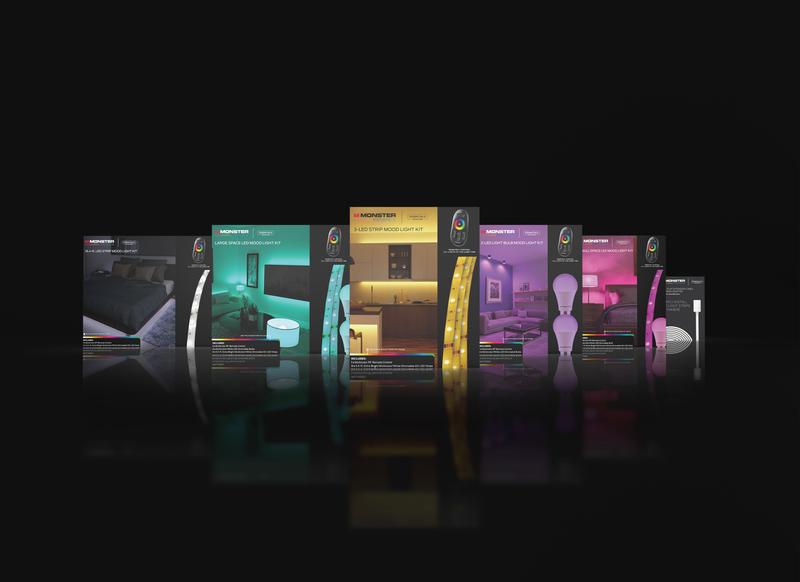 2-LED Light Bulb Mood Light Kit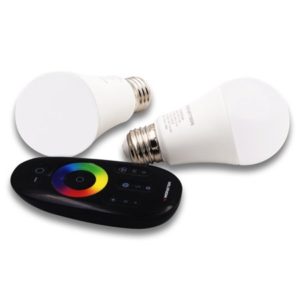 If you just want some color changing bulbs for your lamps, you can simply buy this kit. It does come with the remote control. This remote will allow you to adjust colors, preset mood lighting, speed, and brightness with a simple touch. No buttons to press- it's just like controlling your smart phone.
The remote can be set to control other IlluminEssence lights as well. You can pair up to 4 remotes with up to 30 LED strips or light bulbs. The lights that come in the box are already paired to work right away with the remote, but pairing and unpairing is a simple process. You will need 2 AAA batteries to power the remote. Batteries are not included.
The lightbulbs are 7 watt LED bulbs, and they will save you money and energy. There are 8 preset lighting moods- including Christmas, Halloween, and July 4th. There are also Lounge, Sunset, Beach, or Club atmosphere programs.
This set is available at Wal-Mart for $19.88.
Small Space LED Mood Lighting Kit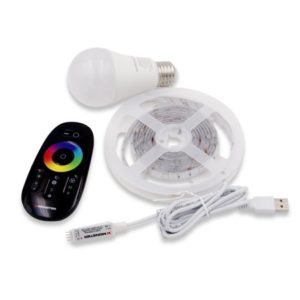 This kit includes the remote and lightbulb as mentioned above, but it also has a 6.5 ft 60-LED strip that works like the lightbulbs. The strip has the same preset programs as the bulb.
One important note on this kit- you will need a wall adapter or somewhere to plug the USB-A end in. This might be easy if you are putting the mood lighting strips near your computer, but in today's world, you probably have a wall adapter or an outlet with the needed ports anyway.
This kit is only $14.88 at Wal-Mart, and a great price- just for the bulb alone!
Other Monster IlluminEssence Kits
We also received the Large Space LED Mood Light Kit, the 16.4 ft LED Mood Light Kit, and the 10 foot Flat Extension Cable and Power Adapter to review. Since I've already described the basics of the kits, I'll just quickly give an overview of these other items.
The 16.4 foot LED strip is just that. It comes with the remote control. You can purchase it for $28.88 at Wal-Mart. It does come with a wall adapter. You can't use it with the 10 foot extension cable and adapter($9.88), but the 5Volt cord will work for your 6.5 ft. LED strips. The Large Space kit($28.88) comes with 2 lightbulbs, 2 6.5 ft LED strips, and the remote. All these kits can work together in your house, though, and they really are a great deal. The one thing that would improve it all would be the ability to work with Alexa or Google Home, but the remote will take care of everything for you.
Thanks to Monster for sending us these great products for free in exchange for our fair and unbiased review. No other compensation has been given.