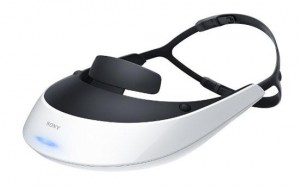 Though I did not see this for myself, I am told that Sony had a Personal 3D Viewer at CES in January. This Personal 3D Viewer is essentially a virtual 150-inch display with two 0.7-inch OLED screens.
There were many complaints that this 3D Viewer was too heavy, and the Sony HMZ-T2 Personal 3D Viewer is much lighter without ear cups. In its place are ear buds, and it also has a dual output switcher to allow others to watch media while you play games.
I have not idea what this will go for as far as price is concerned, but the first generation Personal 3D Viewer is about $800. We'll see how this compares to the Oculus Rift or the MiRAGE.