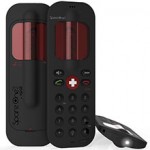 Granted, 2012 wasn't as bad as the movie of the same name, but there were a lot of natural disasters thanks to Hurricane Sandy and more. I think we all could use a good emergency phone, and SpareOne could be that phone.
SpareOne won the CES Design and Innovation 2013 award for "Tech for a Better World", and it is essentially a phone that can run on a single AA battery. This phone can hold its charge for about 15 years when stored unused, and then can activate for about 10 hours of talk time. So if you are in a sudden emergency, you don't have to ask: "did I charge my phone?" Just get the SpareOne and make the 911 call you need.
In fact, the SpareOne has a dedicated 911 button, not to mention 9 pre-set speed-dial numbers. Another feature is the torchlight, a built-in flashlight on the phone.
At the risk of sounding like a commercial, there is now SpareOne Plus, with a cell ID location based service through a Free Smartphone App. There is also "audible numeric feedback with communicates with the user more intuitively".
I'm not certain when the SpareOne Plus will be available, but you can get the SpareOne Emergency Phone on the SpareOne site for $99.99.