It's been since the beginning of the year since I reviewed Speck products, so I was quite pleased to be reviewing some of their products for the newer products like Samsung's Galaxy S8 and the Note 8. These are the ones with Presidio in their name, presumably after that famous neighborhood in San Francisco.
Speck Presidio CLEAR for the Samsung Galaxy S8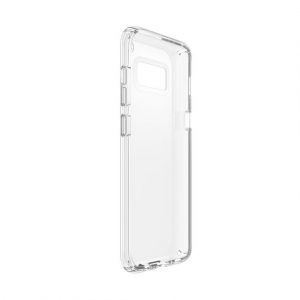 Well, it's pretty easy to see why this is called the Presidio Clear, because this case is…yeah, I don't really need to say it.
The Presidio is made of some transparent Impactium, and I'm very certain that I can't find that on the table of elements. Still, if you want to give your Galaxy S8 some protection from eight-foot drops, I would go with this guy, who keeps it pretty clear as well.
The Presidio Clear is also designed to be very scratch resistant, so should you require protection of this type, I would suggest going for it. You can get it on the Speck site for $19.97, but that might be a holiday discount as it is regularly $39.95.
Speck Presidio GRIP for the Samsung Galaxy S8 and Note 8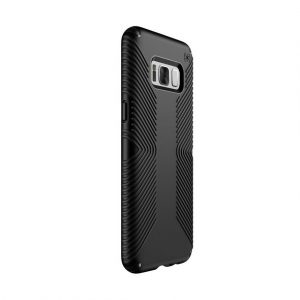 I'm going to do two reviews for the price of one, because there really isn't much difference between the Presidio GRIP for the Samsung Galaxy S8 as there is from the Samsung Galaxy Note 8. Unless we are talking about size here.
Like the CLEAR, the GRIP is easy to see how it got its name. See how ribbed it is on the sides? Good luck trying to accidentally drop your device when it is wearing one of these.
Oh, and it also has an Impactium Shock Barrier on the inside, and I'm considering calling whoever assembles the Table of Elements and adding it. You can add the Presidio GRIP to your Samsung Galaxy S8 here discounted to half-price for $19.97 or your Galaxy Note 8 here discounted to half-price for $22.47.
Speck Presidio GRIP + GLITTER for the Samsung Galaxy Note 8
Okay, before I talk about the Speck Presidio GRIP + GLITTER for the Galaxy Note 8, I should bring up something that I should have brought up when I was talking about the GRIP.
That is, it has two layers of Impactium, and it is military grade drop-tested at 10 feet (3 meters). Like the GRIP, it is very soft, and it has the ribbed sides for non-slippage.
So, it is a great case, and it comes with glitter! It sparkles under the light like a vampire, the Twilight kind. You can pick it up on the Speck site for about $49.95. I don't think there is a discount going on this guy, though.