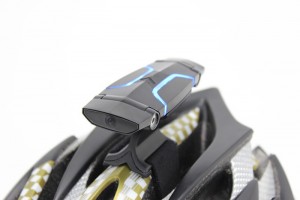 I have reported on a lot of cameras designed for extreme lifestyles, like the GoPro and similar models.
Imagine a camera that can record in front or in back of you. Considering that most smartphones have a front-facing and back-facing camera, I suppose it is not a surprise that the Spectacam was created.
This is one of those Kickstarter projects, and I believe that this is first time something like this has been tried. It features two 1080p camaras mounted at 180 degrees from each other, and the footage can be streamed to a smartphone. This makes it possible for seeing a front view and a back view in real-time. There is even a handlebar mount so you can see your footage by hitting a button.
By the way, the footage is said to be stored on an SD card, with a battery life of about 3 hours. Not bad, and this Kickstarter project can be yours for about $200 when it is released in May 2013.