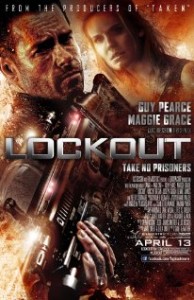 Well, if you are reading this, then it means that I couldn't find some tech to write about today. Yeah, I love doing these Speculative fiction movie reviews, and I would imagine that I should probably read more books.
This film I watched on a whim, because I was testing out the Custom One Pro from Beyerdynamic. It is funny how just adding some good sound can improve and experience, and I was surprised at how good Lockout actually was. Sure, it isn't Oscar material, but it doesn't have to be.
The plot of Lockout is about an agent named Snow, who is played by Guy Pearce. If you have never heard of Guy Pearce, he is one actor that needs to play more leading men. He has a charisma that I first saw in Memento, and if you haven't seen that one, then you should have. Anyway, Guy Pearce plays an agent who works in a future that is not exactly a brighter place.
No surprise there. The beginning is a chase scene that goes from rooftop to rooftop and has Snow riding around on a big one-wheeled motorcycle. Flying vehicles try and stop him and end up getting caught in telephone wires. When was the last time you saw that in a film? Granted, I wouldn't think that the future would have wires like that, especially with flying shooting vehicles.
Snow is framed for a crime that he didn't commit. Also no surprise there. The only way he can be freed is if he breaks out the president's daughter from a prison that is in space. Dang! How did they sell this movie with such a far-out premise?
Part of it is because Luc Besson thought of it. He was the cool guy that gave us The Fifth Element, a film which has a veiled godly message, and I may write about that one day. In fact, I probably will.
Lockout is full of action scenes that are full of adrenaline and dialogue scenes that are surprisingly very witty. I was surprised that it was PG-13, and it could have been a darker and deeper movie with an R rating. Yes, I am complaining that this should have been an R-rated film.
In short, I was quite shocked that Lockout was a good movie, and you should watch it on Netflix Watch Instantly.