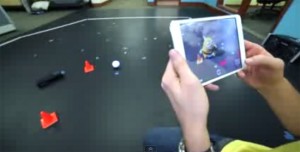 I have reported on the Sphero before, and even covered an interesting story with President Obama and the rolling ball.
If you aren't familiar with Sphero, it is a rolling ball that you can take control of with a Bluetooth mobile device. Sure, maybe a ball rolling across the room isn't impressive to you, but now there is an augmented reality program which will make it very interesting.
The augmented reality application makes it so you have a cartoon beaver running around on the floor. The beaver, known as Sharky, is a very advanced AR technology character, and it is possible to fling virtual cupcakes at it. The ball will go around the room fetching them, and it looks like it has a voice that sounds a lot like Sid the Sloth from the Ice Age movies.
Check out the video after the jump. This could be a new age of augmented reality that I have been looking forward to. Perhaps the Ingress game will help with that.