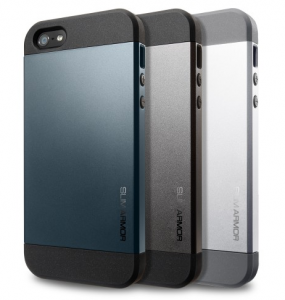 Yes, I have seen a lot of iPhone cases at CES 2013, and I am getting them out of my system this week.
Let me talk about the SPIGEN SGP, and I will start with the Slim Armor case. The TPU case has shock absorption on the top, bottom, and corners, and it has a polycarbonate midsection that can be removed from the TPU. You can get it here for about $17.99.
In addition to this Slim Armor case, there is also the GLAS.t, which protects the iPhone 5's touchscreen from damages and scratches. Even though it is only 0.4mm, it can protect the touchscreen from knives and keys. You can get this on the Spigen site for about $27.99.
SPIGEN SGP also has another screen protector with the GLAS.tR, which has rounded edges of the screen protector. It is at the same thickness (or thin-ness) and protects against scratches. You can get the GLAS.tR on the SPIGEN SGP site for about $34.99.