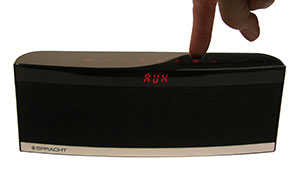 I have reviewed a lot of Bluetooth Speakers recently, and many of them are simply designed to be sound amplifiers for mobile devices, like the Blue II from Mighty Dwarf and the Turtle Shell from Outdoor Technology. I have tried out Bluetooth speakers from Spracht before, and their speakers are designed to be more phone speakers than audio.
I found that as an audio speaker, the Spracht BluNote + Chat Wireless Speaker worked quite well for amplifying the music on my smartphone, and even has Bass Boost for better sound. It has about 5 watts of full frequency range with DSP for noise and echo cancellation.
I found it was good for phone calls, and if a call comes in while playing music, just touch the phone icon on top to mute the music during the call. When the call is over and you hang up, the music will play again. By the way, there are also buttons on top for greater control over music as well.
You should be able to pick up the BluNote + Chat on the Spracht website for about $99. Since we are so close to Black Friday, I might as well just suggest it as a perfect gift for someone who loves both audio and business.