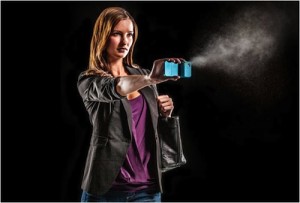 It seems like every day I am covering some sort of iPhone accessory. I think that the best that I have seen are batteries, but the SprayTect is quite unique.
The SprayTect has a pepper spray container that is in an iPhone 4/4S case. In case you are wondering, the case has a detachable cartridge and it won't disturb the iPhone's functionality. Also, there is a safety switch, and you can rotate the canister and spray.
I suppose that some carry pepper spray for defense, and I can see a need for that. I don't like that might be necessary, but this SprayTect puts the pepper spray in a convenient place. I hope that it can't be accidentally activated during daily use, or that could be tearful.
I'm not surprised that a father of a co-ed created the SprayTect. It is available in black, white, pink, and turquoise on Amazon for about $39.95.