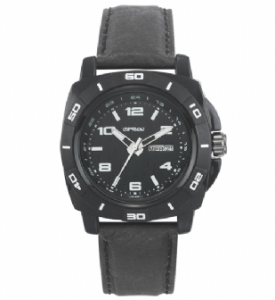 I have to admit that I don't really review many watches on this site. I'm actually surprised that people use them, because most carry around a cellular phone that has the time. The Sprout watch is proud to use eco-friendly materials like organic cotton, natural bamboo, mercury-free batteris, and all of that.
I had a chance to try out this watch, and I will admit that it took me a while to get used to the feeling on my wrist. This particular model here has a Corn Resin Case and Caseback, a Black Tyvek Strap, and Black Bamboo Dial.
I'm not really certain what else I can say about this watch. It's not like it can run apps or anything. Still, the watch market is probably still strong, as evidenced by the existence of this product.
If you want in on this action, head over to the Sprout site and lay down about $60.00 for it. There are other watches as well, made of recyclable materials in various colors and styles for various prices.