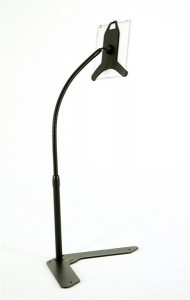 I think the Octa Tablet Tail isn't the only iPad accessory to have some metallic tentacle effect, as the Standzfree has a stand for its bendable structure.
Considering that a lot of us are using the iPad while sitting in a chair, lying in the bed, or standing up, isn't it good just to have an iPad holder for these?
The Standzfree can adjust to 48 inches from 36 inches, and it is stable as it stands with a V-shaped stand. I practically want to nail it to the floor to keep it really stable.
In addition to the Standzfree, the Standzout company has some other iPad or tablet accessories like the Deskdock, a universal desk clamp for putting the iPad in a good working position. The company also has the Wallmate, a device that can safely attach to any surface courtesy with 3M adhesive strips.
The Deskdock and Wallmate are not available now at the Standzout site, but you can get the Standzfree here for $99.95.