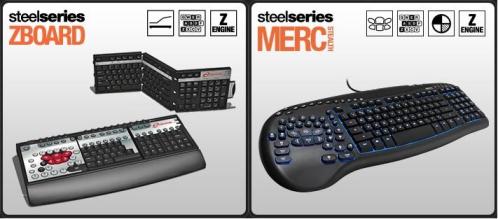 For those of the readers who are into MMORPG gaming, you should really check out two gaming keyboards from SteelSeries: the Zboard and the Merc Stealth. See the reviews of both of these products after the jump.
The Zboard is a terrific gaming keyboard that has the Z Engine, which can make any key a hotkey. What really sells it is the fact that the keys are completely removable, and you can put specially designed keyboards on them. You can read more about it here, and view the video below if you want to see it for yourself, but the quality is less than desirable. Sorry.
The SteelSeries Merc Stealth is also quite cool as it has the same Z Series every key a hotkey function. What makes it cool is the illuminated light underneath. You can read more about it here, and watch the cool video as well.
Both of these are terrific, and you should use either of them (if not both) for your next MMORPG experience.